Made-in-Vietnam AI system detects human face in a second
The made-in-Vietnam AI system's camera is able to process high-quality images in real-time with 30 frames per second.
A facial recognition technology using artificial intelligence (AI) developed by a research group of the Hanoi University of Science and Technology can recognize people's faces with 99.7% accuracy.
Ngo Huu Son, a 4th year student of Institute of Information Technology and Communication under the university conceived the idea of door control system with facial recognition technology for many years. His plan of materializing the ideal was supported by Dr. Do Phan Thuan, Son's lecturer.
"My idea is also supported by an enterprise to develop commercialized products. They will provide smart software, hardware including identification camera, lane gate and automatic barrier. My team is responsible for making the software for the identification and control system," Son told Hanoitimes.
He said the camera is able to process high-quality images in real-time with 30 frames per second.
When detecting someone in front of the camera, the computing device will select the best quality frame of the person's face so that the central processor can recognize by algorithms, Son added.
"When I was in my third academic year, I learned about AI, but it was not easy to apply AI in practice. Besides, processing multiple frames can overload the device," Son said.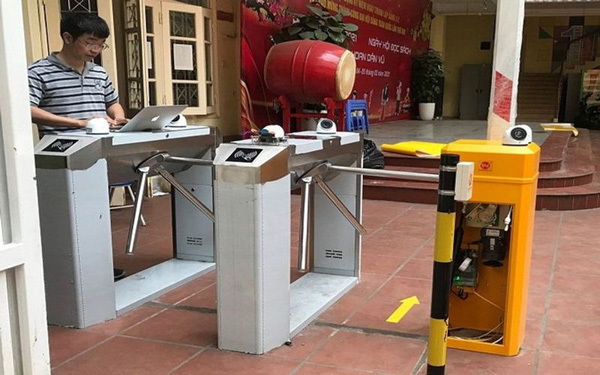 Entry control AI system is installed at Chuong Duong Primary School in Hanoi. Photo: The research team
Dr. Thuan said that through many models that improve camera angle and optimize algorithm, the system can select the nearest face for checking and run the check on smaller-scale processing equipment.
In addition to facial recognition, the system integrates a function of detecting fake identity which automatically activates when someone arrives, Thuan noted.
In the coming time, the team will develop algorithms to avoid being fooled by disguise, identify people wearing face masks and check body temperature.
"The research team and the enterprise also plan to use AI in smart garage systems, smart shopping carts and air quality monitoring," Thuan said.
A representative of the enterprise supporting Son's idea, who wanted to be anoymous, told Hanoitimes that the AI system developed by Son's research team simply uses information from ordinary cameras and does not need additional sensors (like infrared sensors).
This is an important factor which will make the product reduce price and can be easily integrated into existing camera systems. The product can be widely applied to timekeeping systems, authentication systems for organizations, including schools and businesses.
"Moreover, masks are an essential item in the fight against the Covid-19 pandemic, but when people wears face mask, the accuracy of the facial recognition technology can be reduced by more than 50%. Therefore, we also want to develop this technology to improve facial recognition," the representative stressed.
Hanoitimes

The smart lock market in Vietnam belongs to foreign enterprises, mainly Chinese, but this is likely to change with the introduction of Make in Vietnam smart locks.

Tri Nhan, the first robot built in Vietnam with artificial intelligence (AI), is expected to be the future of teaching.