Low, late floods worsen saline intrusion in Mekong Delta: experts

Low and late floods have further worsened saline intrusion in the Mekong Delta region, heard a workshop held in the Mekong Delta province of An Giang on October 4.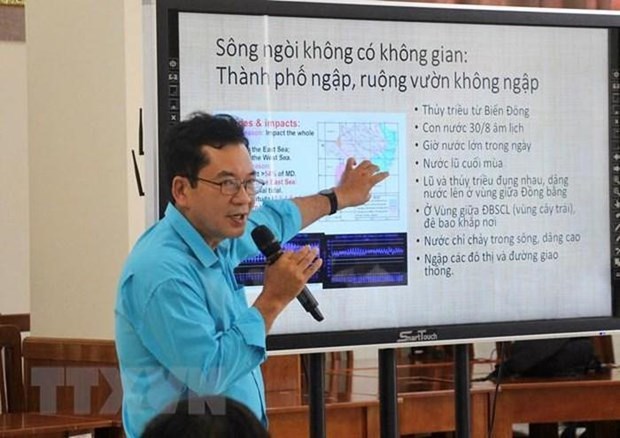 Expert on the delta's ecosystem Nguyen Huu Thien speaks at the event
Low and late floodshave further worsened saline intrusion in the Mekong Delta region, heard aworkshop held in the Mekong Delta province of An Giang on October 4.
The event was co-organised by the Ho ChiMinh City-based Tuoi Tre (Youth) newspaper and the Vietnam Bank for Agricultureand Rural Development (Agribank).
Spanning an area of about 4 million ha, theMekong Delta yields 50 percent of food, 65 percent of fruits and 75 percent ofaquatic products of the whole country, making up 20 percent of Vietnam's grossdomestic product. Floodwater usually is a large source of aquatic creatures,along with alluvium for the delta.
Le Anh Tuan, an expert of the ResearchInstitute for Climate Change at Can Tho University, said low and late floods inthe Mekong Delta will trigger severe saline intrusion, causing a huge impact onlocal people's agricultural production and livelihoods.
Meanwhile, Nguyen Huu Thien, another experton the delta's ecosystem, pointed out that hydropower plants in upper reachesof Mekong River have caused negative impact on the region's weather conditions.
By 2020, the amount of alluvium and sand tothe Delta is projected to plunge, thereby resulting in severe coastal erosion,he added.
Experts also warned that urban flooding inthe Mekong Delta will be yearly, with the next one fiercer than the previous.
Mekong Delta localities are advised toclosely respect the natural course of the river and select appropriate,eco-friendly and sustainable models to adapt, as well as devise scenarios andmeasures to cope with the negative developments.
They are also asked to reduce rice crops ina bid to minimise the over-exploitation of groundwater./. VNA

The Mekong Delta has spent over VND16 trillion, some US$690 million, on anti-landslide projects over the past 10 years, though there remain still more than 560 areas prone to landslides in the region, stretching 834 kilometers.  

Often referred to as the rice bowl of Vietnam for its emerald-green rice paddies, the Mekong Delta is an alluring region rich in unspoiled countryside and peaceful rural settlements that attract nature and culture lovers.

The Southern Regional Hydro-Meteorological Center has announced that river tides in HCM City and the Mekong Delta region reached flood warning level 3 on Monday and Tuesday.