Largest mobile network operators join forces against junk simcards
Under the coordination of VTA, the three largest mobile network operators are working togetjer to implement a plan on managing subscribers' information, aiming to stop the existence of junk simcards and ready-activated simcards.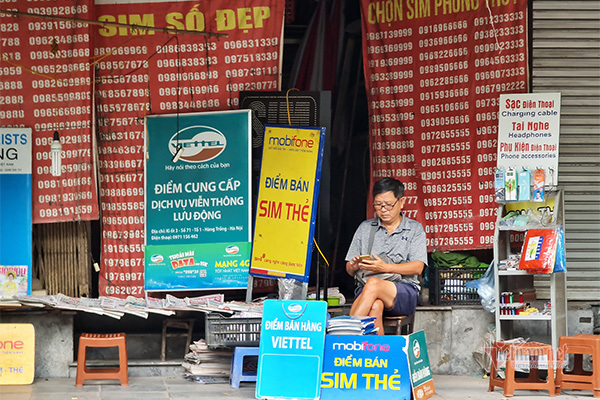 Implementing Decree 49/2017, the Vietnam Telecommunications Authority (VTA) in the last two years has been taking measures to deal with ready-activated simcards.
The agency reported that mobile network operators have taken back 26 million junk simcards, a result praised by the National Assembly's Committee for Science, Technology and the Environment.
The number of ready-activated simcards available in the market has decreased and the telecommunication sector successfully prevented the development of junk simcards.
However, the problem occurred in the first four months of the year. This prompted the three network operators to add measures to strengthen the fight against junk simcards.
This action aims to increase the effectiveness of the plan on managing subscribers' information and preventing junk simcards that the network operators signed in 2019.
Under the plan, activation of subscribers will be implemented on systems of enterprises and by the officers of enterprises themselves. Meanwhile, sale agents will only work as supporters to the sale and enter information if necessary.
The three telecom carriers will also use technological solutions, such as making video calls to authenticating clients before activating subscriptions. The new plan clearly shows the responsibility of individuals and divisions of enterprises in case they allow violations to occur.
Mobile network operators understand that the settlement of junk simcards will create a premise to develop new services, including Mobile Money, thus helping create space for new development.
Telecol carriers all show determination in improving the efficiency of mobile subscribers' information and preventing junk simcards.
The telecommunications sector has been struggling with junk simcards for many years and has gained some achievements, but the problem has not been fully cleared.
Agencies have found messages from overseas via the internet sent to domestic subscribers via junk simcards. VTA has discovered that junk simcards and ready-activated simcards have returned. The number of new subscribers in the first three months of the year increased by 10 percent, far higher than the average growth rate of 6 percent in the entire 2020.
Ready-activated simcards still exist in the market and they have been found as legally registered, which shows the holes in pre-paid subscription management.
Deputy Minister of the Ministry of Information and Communication (MIC) Phan Tam affirmed that the efforts of telecom carriers alone won't be enough to settle the problem. State management agencies will also have to take responsibility for this by perfecting the legal framework. 
Trong Dat

Infrastructure indicators are part of the criteria to assess national competitiveness. 
As many as 128,970 mobile subscriptions that delivered spam calls and messages have been deactivated since last July, according to the Vietnam Telecommunications Authority under the Ministry of Information and Communications.