Japanese Koi dies after two days released into To Lich River

A Japanese Koi has been found dead after two days being released into the To Lich River and expert said that it was poisoned.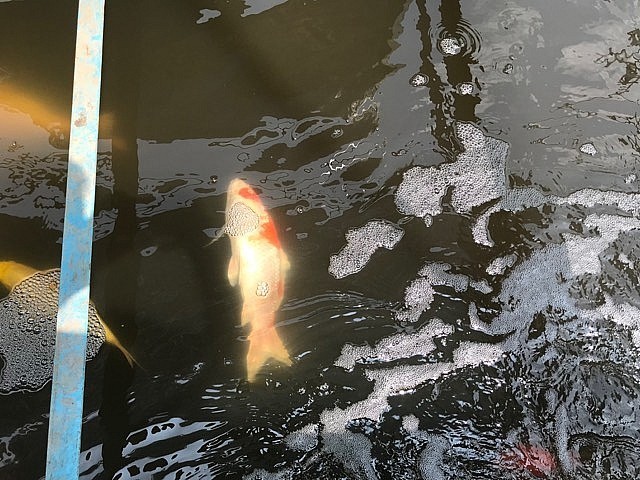 A Japanese Koi is found dead after two days being released into the To Lich River on September 18
Chairman of the Japan-Vietnam Environmental Improvement Company (JVE), Nguyen Tuan Anh, said that the dead fish was found on the afternoon of September 18 at the river section treated by Japan's Nano-Bioreactor technology and autopsy showed that it was poisoned.
"After an autopsy was carried out, we believed that the fish had been poisoned," he stressed. "The guard here admitted that he did not always pay full attention to his work".

According to a water test carried out at 3.05 pm on September 18, pH level was at 7.5 which was suitable for Koi, while oxygen content was also safe, at 5.27 mg/l.
"Nano-Bioreactor technology can also kill bacteria and fungus so we can leave out these possibilities among the causes to the fish death," Anh added.
On September 16, environmental experts from Japan and Vietnam released 50 Japanese Koi and 50 Vietnamese carp at the two sections of To Lich River and West Lake which have been treated for pollution with Nano-Bioreactor technology.
Speaking at the event, JVE chairman Nguyen Tuan Anh said that the fish releasing pilot aimed to show the results of the water treatment here.
"Both carp varieties need to live in clean water and they will die in polluted water," he explained. Dtinews

Both Koi fish and carp fish have been released by Japanese experts and Vietnamese scientists into areas of the To Lich river and West Lake that have been treated for pollution as a demonstration of how clean the water is.

Hanoi Sewage and Drainage Ltd. Company on July 9 discharged more than one million cubic metres of water from West Lake into To Lich River.