ITU Digital World: broadband infrastructure helps reduce unemployment
The topic "Strengthening infrastructure development: The government's role in digital transformation" was discussed by ministers and experts at the ITU Ministerial Roundtable's discussion.
This is one of the activities of ITU Digital World 2021, organized by the Vietnamese Ministry of Information and Communications and the ITU.
Digital future accelerated by Covid-19 pandemic
This session was attended by Minister of Information and Communications Nguyen Manh Hung and ITU Secretary General Houlin Zhao, and chaired by ITU's Radiocommunication Bureau Director Mario Maniewicz.
Hassel Larry Bacchus, Minister of Digital Transformation of Trinidad and Tobago, said that after 18 months, the world has witnessed a shift which boosts the need for digital transformation. The digital future has been pushed forward much more rapidly than what was envisioned before the pandemic.
He said that the success of the digital transformation process and broadband development will play an important role in global socio-economic development, especially in developing countries. This process also exacerbates the digital divide that exists in countries.
In that context, the government's role must be promoted, creating a favorable environment through effective frameworks and legislative policies. Over time, the remarkable change is that the government's digital transformation is not simply about improving, but fundamentally changing what is to be done, how to do it, and by accepting that many activities must be carried out at the same time, said Mr. Hassel Larry Bacchus.
Ecuador's Minister of Telecommunications and Information Society Vianna Maino said that it is necessary to rethink the role of the state and its institutions in the digital age. In Ecuador, this is the task of the Ministry of Telecommunications and Information Society. This ministry works with the Ministry of National Planning to link these strategies with national development plans because it is important to harmonize digitalization with longer-term development goals.
She also said that broadband infrastructure helps reduce unemployment and creates many new jobs. A 1% increase in broadband usage reduces the unemployment rate by 0.105%, she said.
Deputy Minister of Industry and Trade of the Czech Republic Petr Očko said that digital infrastructure and digital services are the key to boosting the economy and society, accelerating post-pandemic recovery and helping to strengthen connectivity of digital economies.
Recognizing that the role of the government is changing due to new trends with open sharing platforms, Petr Očko said that it is time to discuss the sustainable development of digital technology and digital services, which take people as the center. "We also need to support the development of new standards, and promote creativity for people to participate in the development of digital infrastructure," he said.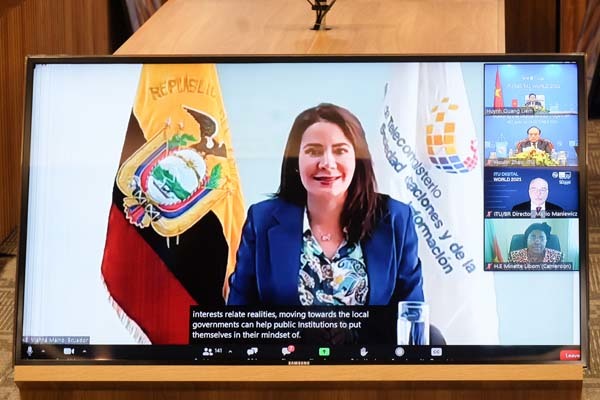 Ecuador's Minister of Telecommunications and Information Society Vianna Maino. Photo: Manh Hung
Minette Li Libom Li Likeng, Minister of Posts and Telecommunications of Cameroon, said that today, opportunities for broadband development in developing countries are open. However, in order to keep pace with the development of wired and wireless infrastructure to build a digital ecosystem, countries need digital solutions that spread across all sectors of the economy.
She said that the Cameroonian government has attracted the private sector to invest in digital infrastructure and cybersecurity to improve quality for end users.
"Integrating new algorithms into the new business model is also important. This can be achieved through active policies and institutions, comprehensive cooperation with the government, and removal of barriers," she said.
From the perspective of a global technology corporation, Melissa Schoeb, representative of Nokia, emphasized that new technology is helping reduce global challenges. "Without investing in 5G and optic fiber, the speed of digital transformation may have slowed," she said.
The representative of Vietnamese technology enterprises, VNPT General Director Huynh Quang Liem, said that countries with leading connectivity infrastructure can reduce the negative impact of the Covid-19 pandemic on the economy by 50%.
In Vietnam, the Government has identified digital infrastructure as one of the pillars of the digital economy. Mobile networks cover 99.8% of the Vietnamese population. However, Internet access in rural areas is still limited. Many villages still do not have mobile broadband, and over 30% of households do not have a fixed broadband connection.
Mr. Liem emphasized the importance of 5G networks on promoting digital transformation. However, mobile network operators face risks when developing broadband infrastructure in rural areas and encounter difficulties in the early stages of 5G development. Therefore, the role of Governments in leading, guiding and supporting is crucial to promote 5G implementation.
PV

Minister of Information and Communications Nguyen Manh Hung has met with Secretary General of the International Telecommunications Union (ITU) Houlin Zhao, who is attending the ITU Digital World 2021 hosted by Vietnam.