iPhone13 prices plummet just after two months
Two months after hitting the domestic market, iPhone 13 smartphones hand carried from Singapore and Hong Kong have seen prices drop dramatically by VND10 million, while officially distributed Apple phone products have fallen by VND5 million.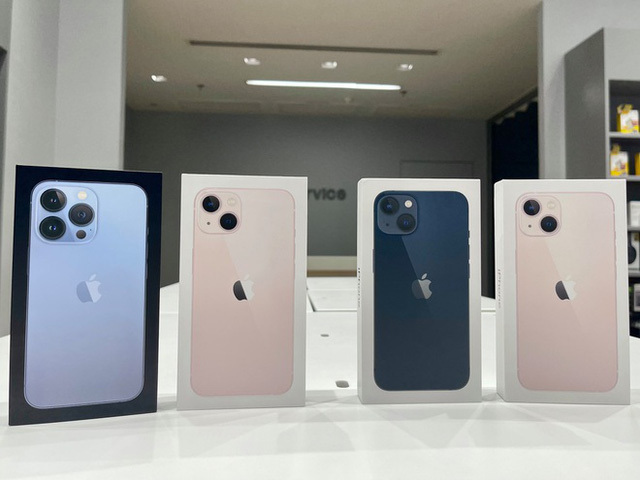 Hand carried goods appeared in the Vietnamese market in late September and sold at sky high prices. iPhone 13 Pro Max 256 GB and 512 GB were then priced at VND51.5 million and VND58.5 million, respectively. Grey iPhone 13 Pro Max 128 GB was priced at VND46.5 million, while iPhone 13 and iPhone 13 Pro VND36.5 million and VND41.5 million for 128 GB version.
But the prices began falling days later. Since October 22, when iPhone 13 series began officially selling through authorized resellers, hand-carried iPhones have seen prices falling sharply to compete with officially distributed products.
At present, a hand-carried iPhone 13 is selling at VND21.9 million, lower by VND10 million than the peak price, while iPhone 13 Pro and iPhone 13 Pro Max are VND32.5 million and VND34.9 million, respectively, a fall of VND8-10 million.
Some smartphone dealers said the prices are at the lowest after a continuous decrease over the last two months. However, the prices of iPhone 13 Pro and iPhone 13 Pro Max are stable as demand is still high.
Since the hand-carried iPhone market is less bustling this year, the dealers said they imported small amounts of products for sale. Some dealers have stopped trading hand carried goods, because the price gap between officially distributed products and hand goods has narrowed. With the current selling prices, dealers make modest profit.
Meanwhile, people tend to buy officially distributed iPhones to be able to enjoy the official warranty.
According to analysts, in previous years, officially distributed iPhones hit the market one or two months later than hand-carried goods which were popular with people who wanted to have the latest generation of iPhones earlier than other people.
However, iPhones distributed via authorized resellers hit the market one month earlier this year, which has made hand-carried products less competitive.
While dealers have lowered selling prices to compete with officially distributed products, they have had to pay higher cost prices because of difficulties in transport during the pandemic.
Even the officially distributed iPhone 13 has seen prices decrease by VND1.5 million from the previous month because of low demand. The iPhone 13 mini 128 GB, for example, has decreased by VND1.8 million in price to VND18.7 million. 
Trong Dat

The market for "hand-carried" iPhones in Vietnam has been shrinking in the past two years, especially after the launch of Apple-authorized stores.