Impressive figures for Vietnam's digital transformation in 2020
While Covid-19 had a negative impact on socio-economic development globally, Vietnam was able to control the outbreaks and grab an opportunity to step up national digital transformation.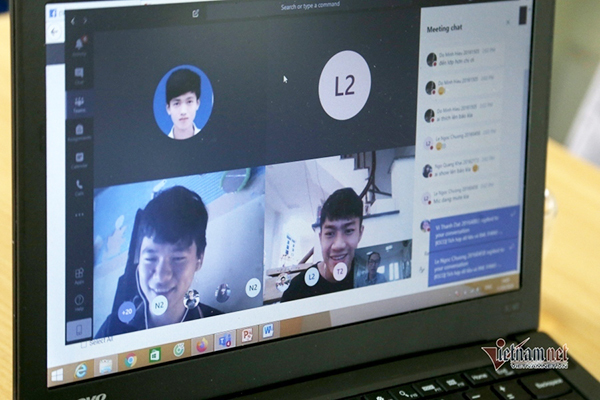 80 percent of students studied online during the peak of the Covid-19 outbreak in Vietnam
Speaking at the Ministry of Information and Communications (MIC) conference reviewing the implementation of tasks in 2020, Do Cong Anh, executive deputy director of the Authority for Information Technology Application, said that one of the biggest successes in 2020 was the comprehensive universalization of digital transformation for the entire society.
Amid the Covid-19 pandemic, the level of interest and learning about digital transformation increased tenfold compared to the beginning of 2020.
This could be seen by people's contributions to combat the pandemic. As many as 23 million people have used technology to fight Covid-19, and they will be the core population force playing an important role in popularizing digital transformation throughout the entire society.
In the healthcare sector, Vietnam launched a system to have medical examinations from a distance with 1,500 points. The software to manage medical facilities has been applied by 12,000 clinics. If there is no remote medical examination, it will take six hours to transfer patients from local medical units to higher-level units, during which heavy patients may die.
In education, the database of the educational sector now has information for 53,000 schools, 1.4 million teachers and 23 million students. Meanwhile, 80 percent of students studied online during the peak of the Covid-19 outbreak in Vietnam, higher than the average proportion of 67 percent of other countries.
Vietnam has begun trying digital transformation at the commune level. This is an important trial, because it has direct relations to people. The trial showed that technological platforms are ready and are inexpensive. Most importantly, it is necessary to identify the right problems to solve with technology.
2020 was also the year when important platforms serving digital transformation took shape. According to AITA, 38 Make in Vietnam platforms for digital transformation in various fields, from government and healthcare to education, tourism and trade, were created.
These platforms were praised by the jury board of Make in Vietnam and Viet Solutions awards and they will serve as important platforms for the digital government.
To help ministries, branches and localities overcome problems they may meet when carrying out digital transformation, MIC has released a handbook on digital transformation, and has created sample resolution and strategy for local authorities' reference.
Ministries, branches and localities have to meet all the basic criteria of digital government the next year, and provide 100 percent of 4th-level online public services to shift to build digital government. Two big national databases on population and land will be put into use. 
Trong Dat

Thai Van Thanh, director of the Nghe An Education and Training Department, said if there are favorable conditions, online teaching will bring big benefits, especially in remote areas.

The Vietnamese IT market has seen a strong increase in digital products, platforms, and services in 2020, with many gaining bolder steps in domestic and international markets.