Imitation iPhone 11s, counterfeit iPhones, Note 9s flooding Vietnam

Apple has not launched iPhone 11 yet, but imitation iPhone 11s, advertised as having exactly the same design as iPhone 11, are available in Vietnam.
The imitation iPhone 11s, available at private shops, are introduced as products from Taiwan, Singapore and Hong Kong.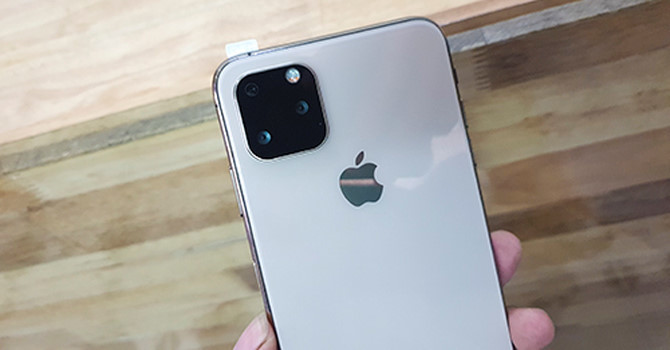 According to the owner of a private shop on Tan Ky Tan street in Tan Phu District, HCMC, the retail price is VND2-2.5 million, while the wholesale price is just VND1.8 million.

The products have the same size as iPhone XS Max with 6.5 inch infinity screen, notch design, buts its 'chin' is much thicker than Apple's iPhone X and iPhone XS.

There are three cameras with flash on the left part of the phone, but only one of them is a real camera and the resolution level is 5 megapixels only.
The imitation iPhone 11s, available at private shops, are introduced as products from Taiwan, Singapore and Hong Kong.
Unlike the other imitation models, when clicking on App Store icon, the machine doesn't display the board for logging on to Google Play. Instead, iOS interface appears, but shows image errors. In general, the downloading of apps doesn't succeed, or users have to access Google accounts.

The information shown on interface shows that the device uses 6.5-inch HD screen resolution (1,280 × 720 pixels), runs with octa core chip, has 4 GB RAM, 512 GB internal memory, and runs iOS 12.

However, when checking the device with specialized software, the machine only has basic configuration, with MediaTek chip, 1 GB RAM or 2 GB, 16 GB internal memory. It runs on old Android, mostly 7.0 Nougat or 8.0 Oreo versions.

The fake iPhones support swipe gestures like iPhone Xs Max, but the experience is bad and the response speed is very slow. The swipe for quick access is also top-down like Android, instead of bottom-up like Apple's iOS.

The owner of a mobile phone shop in Tan Binh district said he can sell 2-3 products each day and the number of people interested in the imitation products is low. The buyers know the products are fake.

Le Thai, a technician in district 3, said the devices are dirt cheap because they are made of low-quality accessories which have not gone through any testing. He warned that the users of the low-quality products face the risks of contacting toxic chemicals and explosions because of bad charging units.

Meanwhile, counterfeit and fake technology products have been found on e-commerce websites.

A fake Galaxy Note 9 on Shopee has a wide range of prices from VND2 to VND20 million. Some stalls sell Note 9 at the low price of VND5 million, but still advertise this as a genuine product.
Mai Lan 
iPhone users have complained that iOS 13 beta on their phone sets sometimes interferes with incoming calls.