Illegal dumping in public still plagues Hanoi
Littering in public areas has been a problem for many years in big cities and Hanoi is no exception.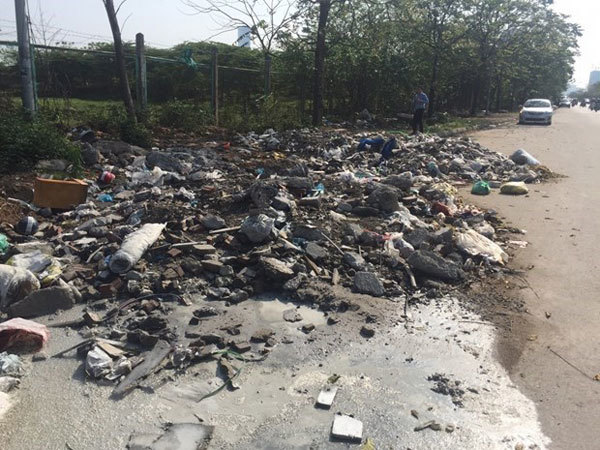 Construction waste illegally discharges along Hanoi's Thang Long Boulevard. — VNA/VNS Photo Manh Khanh
Abandoned waste piles still exist on many roads, according to the municipal Department of Construction, and authorities at all levels have failed to effectively prevent this.
Domestic and construction waste is seen dumped on the pavements, especially on roads such as Thang Long Boulevard, or along riverbank dike sections in some communes and ward of Hoai Duc, Ha Dong and Thanh Oai districts, vietnamplus online newspaper reported.
Large amounts of waste are piled up several metres high on the sides of roads.
Even in Ba Dinh District, one of the main districts of Hanoi, with a high population density, dumping waste still occurs along roads such as De La Thanh and Buoi. 
According to a representative of a group specialising in transporting waste for construction projects, they often sign a contract with construction works owners to dump rubbish for VND10,00-20,000 per bag of waste and this work is often done at night or early morning to avoid detection.
After signing the contract, the head of the group will hire some workers to transport waste by motorbikes to empty land plots.
Nguyen Van Toan, head of a unit of the Hanoi Urban Environment One Member Co Ltd (URENCO), said it was difficult to deal with the problem.
The cleaning of illegally dumped waste was very hard due to the large volume and cumbersome rubbish, requiring more staff and equipment, Toan said.
About 1,000 tonnes of waste has been discharged in public places in Ba Dinh District so far this year.
Toan said the unit was not responsible for punishing violators who have been discovered, saying that was the job of the police and local government.
According to URENCO's leader, from the beginning of the year, the company has worked with authorities to detect dozens of people who littered construction waste on Thang Long Boulevard.
However, that is only a drop in the bucket and URENCO has repeatedly petitioned the environmental police and local authorities to take measures to solve the problem.
Lieutenant Colonel Nguyen Tuan Phuong from Hanoi Police's Environmental Police Division said they will strengthen patrols to detect violations to ensure environmental sanitation.
In September and October, inspectors of the Hanoi Department of Construction worked with local forces to conduct inspections in Nam Tu Liem District and handle 56 administrative violations, with total fines of VND202.4 million (US$8,730).
According to the construction department, about 2,500-3,000 tonnes of solid waste is discharged by construction sites in Hanoi daily.
Some of this waste is taken to four landfills in Dong Anh and Thuong Tin districts. However, these landfills are already overloaded.
Communication campaigns to raise public awareness of environmental protection and classification of solid waste by households, as well as guidance, inspection and handling of violations in demolition, collection, transportation, and treatment of construction solid waste in districts and towns, has not been implemented regularly, according to the construction department.
The department has suggested the local administration should strengthen inspection, supervision and request all construction sites to comply with the regulations on environmental protection.  VNS

A dozen of drums suspected of containing toxic chemicals were illegally dumped along Thang Long Boulevard after the National Independence Day holiday, reported the Vietnam News Agency.

The police in Hoa Binh Province have arrested two men for dumping waste oil near the Da River Water Plant, the water source for millions of people in Hanoi.