High-tech solutions are helping in the fight against Covid-19
With many variants and outbreaks, Covid-19 is expected to be a long-term struggle requiring the contribution of the entire society.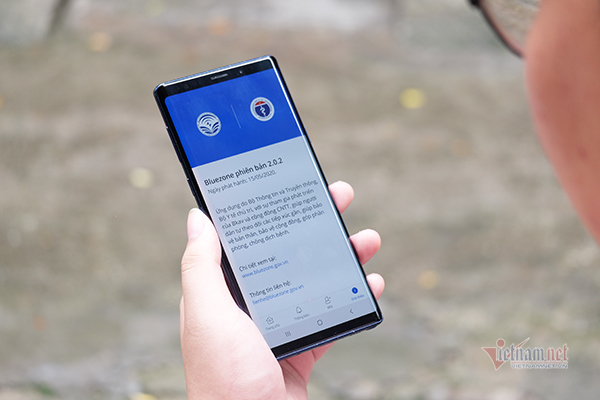 Recording epidemiological marks with QR codes, tracing people suspected o being infected with coronavirus on the Bluezone app, and requiring health declarations on the NCOVI system - these are all technological solutions being used to prevent and control the spread of Covid-19.
With many variants and outbreaks, Covid-19 is expected to be a long-term struggle requiring the contribution of the entire society.
Since the first outbreak, non-traditional measures have been needed to cope with Covid-19. Fighting it with technology is believed to be the optimal solution.
To battle the pandemic more effectively, the Ministry of Information and Communications has released a document on solutions to support Covid-19 prevention and tracing in the community.
The document said that localities need to apply different solutions concurrently. The solutions include the mobile phone installation of Bluezone, an app warning of close contact with Covid-19 suspects, and NCOVI, the management system for voluntary health declarations.
Local authorities also need to run a system that automatically recognizes people who are coming and going through QR code scans and a pandemic prevention map.
In localities with airports and border gates, electronic medical declarations are compulsory for all people entering the country.
Experts said that technological solutions such as Bluezone will only bring high efficiency if they are used by more than 60 percent of population.
The app developer reported that as of March, more than 30 million people had used the app.
In the Covid-19 outbreak in Hai Duong province (beginning July 25, 2020), with 27 percent of phones where Bluezone was installed, the locality found 1,035 F1 (contacts of F0) and F2 contacts (contacts of F1) of the F0 infected person.
In the Covid-19 outbreak in Hai Duong on January 27, 2021, with 43 percent of phones installed, the system traced 1,993 F1 and F2 cases. The app helped medical agencies find 17 positive cases outside the list of traditional epidemiological investigations.
With these successes in Hai Duong, Bluezone is considered the most effective measure, allowing society to keep operating normally even though some patients are put under quarantine.
Regarding NCOVI, as of February 3, 2021, there had been 7.8 million installations, 18 million medical declaration records, 52.95 million health monitoring records, and 7.25 million QR code scanning records.
An additional solution, requiring people to check-in to record epidemiological marks with a QR code, has recently been applied.
If a person tests positive for Covid-19, agencies will consider the QR code scanning history to filter out the "epidemiological landmarks" where the patient has been in the three days before the onset of the disease. 
Trong Dat

Facing the complicated development of epidemic, many provinces have ordered local people to apply technology solutions such as filling out electronic medical declarations by scanning QR codes and installing the Covid-19 tracking app Bluezone.
The first cases of COVID-19 were discovered on December 29, 2019 in Wuhan, China. Later, on March 31, 2020, the World Health Organisation (WHO) declared COVID-19 a global pandemic.

Within four days, Vietnam recorded 240 cases of Covid-19 community infections. However, the Ministry of Health said that up to 20% of F0 cases did not cooperate with the authorities' Covid-19 tracing effort.