HCM City to fill in wells to prevent land subsidence

A number of wells that have been supplying large quantities of water in HCM City are being filled up since the city's 100,000 or so wells have been identified as one of the main reasons for land subsidence.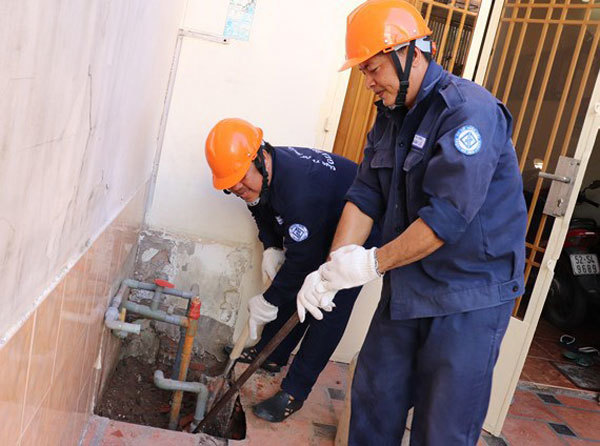 Workers from the Gia Dinh Water Supply JSC fill a well in Ward 11, Binh Thanh District. -- VNS File Photo
On June 21, for instance, the well at Nguyen Dang Duong's home on Nguyen Van Dau Street in Binh Thanh District was closed by workers from the Gia Dinh Water Supply Company.
The well provided water for Duong's family for over 15 years. He said when he dug the well there was no water supply in his house.
"Now that clean water is available I accepted the proposal to fill in the well to prevent ground collapses and prevent groundwater pollution."
The Gia Dinh Water Supply Company has been entrusted with closing 17,000 wells in districts 3, Binh Thanh, Phu Nhuan, and Go Vap.
Nguyen Van Dang, its director, said the company has collaborated with district authorities to persuade people living in these districts to fill their wells and use tap water instead.
Dang said the company plans to fill up some 2,000 wells this year and 3,000 drilled next year, and 12,000 families would switch from groundwater to tap water between 2021 and 2025.
The company provides a subsidy of VND1.2 million to a household that fills up its well.
Bui Thanh Giang, deputy general director of the Sai Gon Water Corporation (Sawaco), said the company has pledged to reduce the volume of groundwater used per day from the current 100,000cu.m to 30,000cu.m by 2025.
To achieve these targets while ensuring supply of clean water to households, Sawaco will use water from new facilities like the Thu Duc Water Plant No 3 and Tan Hiep Water Plant No 2, which provide a total of 600,000cu.m a day.
However, it will take several years to fill in the existing drilled wells, while huge investments are required to build the pipeline networks to bring clean water to the city's residents.
Giang said his company has a road map for reducing the use of groundwater: 90,000cu.m per day this year, down 10 per cent from 2018; 70,000cu.m in 2020, and 49,456cu.m between 2021 and 2023.
It would also cut the use of groundwater at the Tan Phu Plant to 33,000cu.m per day this year and 30,000cu.m by 2025, he added.
In addition to filling up wells, other solutions are also required to prevent ground subsidence, according to Tran Van Tuong, a HCM City Engineer, who said construction of high-rise buildings on weak foundations is another reason for it.
Filling wells is much easier than shoring up high-rise buildings built on weak foundations, he pointed out.
Official agencies must be firm in rejecting applications for building high-rise buildings and drawing ground water for household use in vulnerable areas, he said.
Reservoirs should be built to store water and groundwater must be carefully managed, he said.
For the long term authorities must conduct studies on wastewater treatment so that it could be used again after treatment, he added.
VNS