HCM City's lack of automatic air monitoring stations means public knows too late about pollution

A haze has covered HCM City on and off for the last two weeks and air quality has severely deteriorated according to some global weather monitoring websites, but city residents are not getting information about it in time from authorities.
Rising pollution prompts VN Environment Administration to issue warning
HCM City: data on environmental pollution unreliable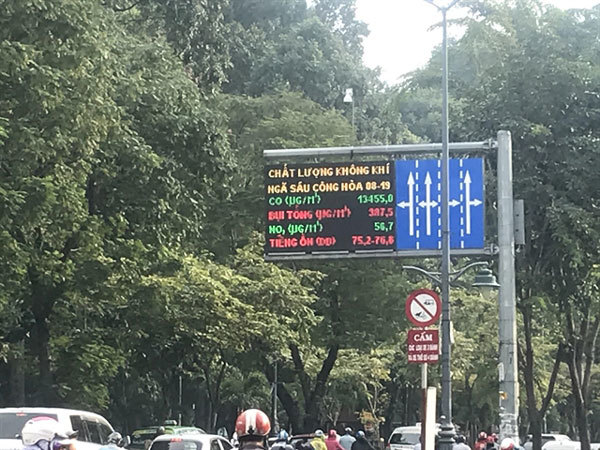 A signboard at the Lang Cha Ca Roundabout in HCM City's Tan Binh District shows the air quality obtained in August in early October.— VNA/VNS Photo Xuan Dang
Pham Van Son, director of the Environmental Incident Response Centre, said when there were environmental incidents, relevant units were slow to provide information and issue warnings to the public.
Two weeks after the haze first appeared, the Centre for Environmental and Natural Resources Monitoring said the phenomenon is called photochemical smog and had occurred for the last five years.
It is caused by the interaction of solar ultraviolet radiation, engine exhaust emissions and industrial emissions.
According to Nguyen Thi Thanh My, deputy chairwoman of the city Department of Natural Resources and Environment, at the 20 weather monitoring stations in the city, emissions are still measured manually.
Most of the city's 10 automatic monitoring stations stopped working over 10 years ago.
So they only monitor small areas and are always slow in issuing environmental reports.
Cao Trung Son, director of the Centre for Natural Resources and Environment Monitoring, said readings were taken twice a day at 34 locations in the city.
After that they were sent to the laboratory for analysis, and it usually took a month to get the results, he said.
The results were then updated on the centre's website and public signboards across the city, but they would not indicate the real situation, he admitted.
This meant the air pollution level could not be accurately monitored, he said.
The lack of automatic monitoring stations is due to the lack of lands to set them up, according to Son.
But the Department of Natural Resources and Environment has called for building more automatic monitoring stations.
There is a proposal to build seven automatic air monitoring stations and two water quality monitoring stations in the Sai Gon and Dong Nai rivers by the end of 2020 at a cost of VND500 billion(US$21.6 million).
VNS