HCM City begins work on first hazardous waste treatment plant

Ho Chi Minh City started work on its first industrial and hazardous waste treatment and recycling plant in Binh Chanh district on December 20.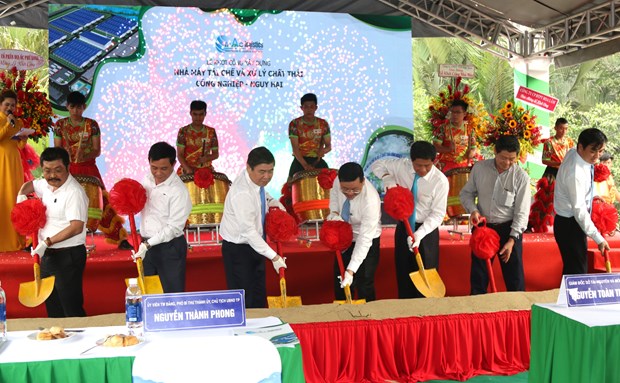 The ceremony marking the start of construction of HCM City's first hazardous waste treatment plant on December 20 
The plant, based in the Da Phuoc solid waste treatment complex, will be able to handle 500 tonnes of waste per day and turn 70 – 90 percent of the waste into materials and products.
It is scheduled to run on a trial basis in October 2020 and become officially operational in September 2021. Its capacity can be increased after it is fully put into use, according to Pham Duy Tan, General Director of Moc An Chau Logistics Corporation – the project's investor.
Chairman of the municipal People's Committee Nguyen Thanh Phong said the plant will partly meet the city's demand for concentrated hazardous waste treatment, helping to address the unprofessional transportation and treatment of this type of waste.
He noted that HCM City currently has 13 licensed hazardous waste treatment facilities with a total capacity of 250 tonnes per day, but they are small, located in residential or industrial areas, and operate separately while their treatment capacity is still limited. The untreated volume is delivered to other localities to be handled.
Meanwhile, there are more than 2,000 big factories and 10,000 medium- and small-sized production establishments in the city, generating nearly 2,500 tonnes of industrial and hazardous waste every day. The daily amount is predicted to reach 3,500 tonnes by 2025.
Therefore, a large plant for concentrated waste treatment is critical to the sustainable development of HCM City, Phong said, adding that authorities are working to create favourable conditions for businesses to invest in advanced waste treatment technologies and build new plants to deal with all the waste released./.VNA