HCM City aims to reduce litter dropping

Binh Dien Wholesale Market in HCM City's District 8 wants city authorities to help reduce the waste it produces.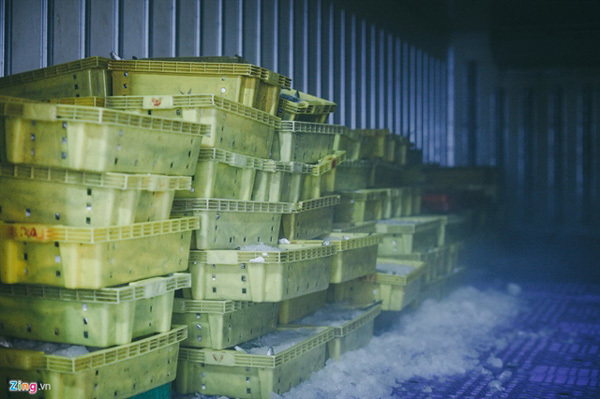 Seafood is supplied from the Mekong and central provinces to Binh Dien Market in HCM City's District 8. — Photo news.zing.vn
During a visit by the deputy chief of the city Party Committee, Vo Thi Dung, to the market on October 29, its director, Tran Thi Thuy Lien, said city authorities should persuade provinces that supply foods like Lam Dong, Dak Nong and Tien Giang to improve the packaging quality of goods they send to the city's three wholesale markets.
She said 170-200 tonnes of mud come with meats, vegetables and fruits every month, costing up to VND3 billion a year to dispose of.
This cost cannot be collected from the suppliers, she said.
Binh Dien Market Trading and Management Co., which runs the market, seeks assistance from city agencies to clean the mud, she said.
According to the deputy director of the city Department of Trade and Industry, Nguyen Huynh Trang, there are regulations for preliminary processing of food, and so to reduce the waste generated, Binh Dien Market Trading and Management Co. should carefully check semi-processed goods when they are delivered.
A spokesperson for the department called on the company to reduce the area where food is processed and instead ensure they are processed at source.
Dung said the company should better educate traders in the market about waste discharge regulations and penalise violators.
To ensure these measures are enforced successfully, it should install cameras in the market for monitoring, he added.
Covering 65ha near Nguyen Van Linh Road, Binh Dien Wholesale Market is the largest one in HCM City. It provides agricultural products and food for the South and South Central Coast's provinces.
The market is located at the western gateway of HCM City, about 5km from Phu My Hung Urban Area, 700m from the Highway 1A and along the Ben Luc River, very suitable for transporting goods on the waterway.
As many as 1,750 tonnes of products are collected per night at the market, valued at VND48-50 billion (US$2.3 million). Aquatic products account for 65 per cent of the total revenue; meat of different types making up about 22 per cent; vegetables about 10 per cent, fruit about 2.5 per cent; and dried seafood 0.5 per cent. VNS