Hanoi working hard to combat air pollution
Deputy director of the Hanoi Department of Natural Resources and Environment Le Tuan Dinh speaks about solving the root cause of environmental pollution in Hanoi in a bid to improve air quality.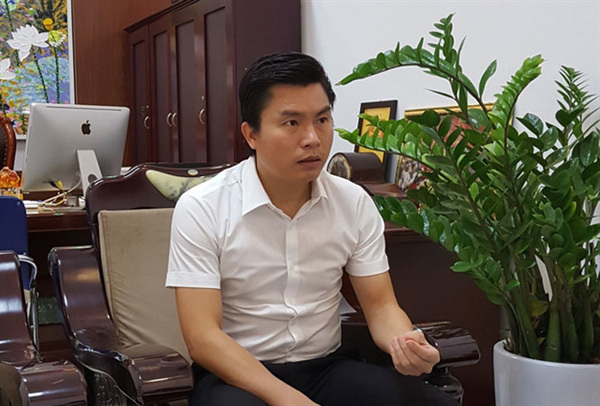 Le Tuan Dinh, deputy director of the Hanoi Department of Natural Resources and Environment. — Photo hanoimoi.com.vn 
The construction of an air monitoring systems and inventory of waste sources is important to treat the source of pollution. This can be seen as a foundation for solutions to improve air quality. Could you tell us more about what Hanoi has been doing related to this issue?
Hanoi installed an air monitoring system in 2016 to control air pollution. The Department of Natural Resources and Environment has managed and operated a system of 35 automatic air monitoring stations. In addition, the department is implementing a project of building 15 fixed air environmental monitoring stations, integrating three radioactive monitoring devices; one radioactive monitoring device on automatic surface water monitoring station, six underground water monitoring stations; five water monitoring stations and complete the environmental monitoring network in the city in 2021.
This monitoring station system and data transmitted is connected to the Data Management Centre at the sub-Department of Environmental Protection to monitor the air quality development and to promptly warn the community and serve the state management in order to put in place mechanisms, policies and solutions to protect the environment.
The department has co-operated with a number of organisations and experts at home and abroad to make an inventory of waste sources that cause air pollution. We have identified 12 causes of air pollution and proposed 19 solutions to deal with them.
The main causes of air pollution are: motor vehicle emissions, construction activities; vehicles transporting construction materials and waste; emissions generated from industrial establishments that burn fossil fuels; outdoor burning straw and waste in some localities and the use of the honeycomb charcoal stoves for domestic and commercial purposes.
An objective cause is the influence of weather, heat inversions and pollution sources from outside to Hanoi.
Along with determining the source of pollution, it is very necessary to handle the responsibility of the organisations and individuals that violate the law on environmental protection. However, the current sanctions are not yet effective as expected because the fines do little to deter people. What are your thoughts on this?
The Law on Environmental Protection has regulated that violators have to pay fees for waste treatment. The Government has also issued a decree on sanctioning of administrative violations in the environmental protection.
However, the implementation has not been effective because the sanction level is still low while the handling of the authorities is not drastic so it is not enough to be deterrent. The department has proposed the city People's Committee assign the Department of Construction in co-ordination with the Department of Finance to study and propose the increase of sanction levels to organisations and individuals that cause environmental pollution.
Is there any solution to force the polluter to pay the environmental protection fee?
It is necessary to build a full system of legal documents, specifying each object, each polluting act and punishment must be heavy enough to deter violators. At the same time, it is necessary to enhance the responsibilities of environmental protection officers at all levels, the environmental police force as well as raising awareness of businesses and people about behaviours that cause pollution and the level of punishment.
There are many sources of air pollution. What are the most radical solutions to overcome this and what will Hanoi focus on in the near future?
Air pollution is contagious and the air quality management requires short-term, medium-term and long-term solutions to be deployed synchronously from the central to each locality and each region.
Hanoi plans to completely eliminate the use of honeycomb charcoal and other coal stoves for both domestic and commercial purposes before December 31, 2020; eliminate burning of straw by 2021 and accelerate projects of domestic waste treatment.
In particular, the city will put into operation a power-generating plant with capacity of 4,000 tonnes per day at the Nam Son waste treatment complex in Soc Son District; strengthen the waste collection to the concentrated treatment areas and eliminate the waste backlog situation and waste burning activities in suburban areas.
Regarding mid-term and long-term solutions, Hanoi will focus on perfecting the automatic air quality monitoring system by 2021, ensuring a continuous and complete data chain for forecasting, warning of pollution and identifying sources of pollution.
The city continues to implement the green tree planting programme; inspect and control motorcycle emissions, apply Euro 4 and 5 emission standards and improve the quality of fuel.
The city will also research, assess and monitor pollution sources transported from other areas to Hanoi and cross-border pollution to work out inter-regional co-ordination solutions to develop air environmental protection plans.
Minimising environmental impacts and improving air quality is not only the responsibility of the authorities but also the responsibility of each citizen. What do the people need to do to contribute to creating a fresh atmosphere for themselves and the community?
Each citizen needs to be aware of the responsibility to protect the air environment. It is not only the responsibility of the authorities but also to all citizens of the capital city.
People need to implement the directive of the city People's Committee on measures to overcome pollution and improve the air quality index, including not using a honeycomb charcoal stoves and other coal; not burning straw and by-products in agricultural production; dumping trash on time at the right place; not burning garbage indiscriminately; limiting the burn of votive offerings and planting trees.
Each citizen also needs to monitor and denounce acts of causing environmental pollution in order to handle in compliance with regulations.  VNS/Hanoimoi

It's common in Vietnam to see people throw garbage on a dumping area by the pavement, then collectors come to load the waste into garbage carts and transport to treatment areas.

Hanoi People's Committee Chairman Nguyen Duc Chung signed Directive 19 on December 25 asking related agencies to quickly deal with air pollution and let pupils stay home on bad air days.