Hanoi warned of severe air pollution

Hanoi experienced serious air pollution over the last few days.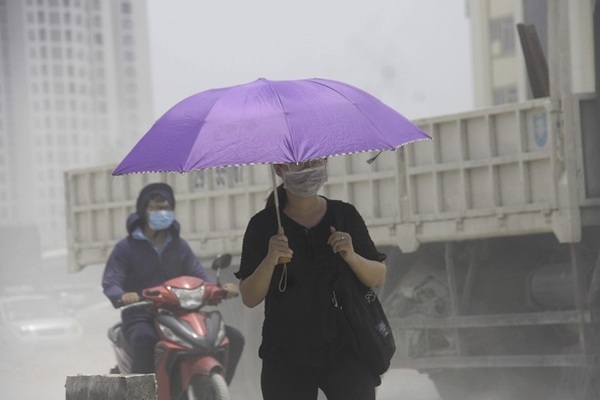 Travellers on Pham Van Dong Street
Results from PAM air quality measurement method show that all the air pollution in Hanoi on August 25 was severe, with the air quality index ranging from 150 to 200. An air quality index over 100 is considered bad and people with respiratory and heart diseases are advised to stay home. If the index increased to over 150, all citizens are affected.
On January 30, 437 schools in Bangkok were closed after the air quality index rose to 170.
When being asked why air pollution was so severe during the rainy season, Hoang Duong Tung, chairman of Vietnam Clean Air Partnership, said the dust and pollutants were trapped near the ground and made Hanoi looked like it was covered in fog. The air quality improved a little on August 27.
At the conference about solutions to air pollution in Hanoi that was held on August 27, it was announced that the ultrafine dust concentration was really high.
The researchers collected the data at six different outdoor locations and six indoor locations. The ultrafine dust concentration outdoor during the rush hours was 27,000 to 31,000 per cm3. The ultrafine dust concentration in Beijing in 2014 was also 30,000/cm3. The concentration indoor is half of the outdoor data.
"We spend most time staying indoor so the elderly and children are the most threatened," said Trang Ngoc Quang from the University of Construction.
According to the researchers, indoor pollution is also caused by some cooking activities. Despite the small scale of the research, it proves that the indoor air quality should get more attention and thorough research to find the cause and the severity of indoor air pollution.
The PAM air solution has been used at 30 locations in Hanoi. It is also applied in other provinces such as Thai Binh, Nghe An, Danang, Binh Thuan, Vung Tau and HCM City. The citizens can also view the real-time air quality index to better protect themselves.
Tienphong/Dtinews

An exhibition on air pollution titled "Feel The Air" unfolded in Saigon recently. 

There are three 'pillars' for air quality management, including data from emission sources, air monitoring data, and assessments about the human impact. Vietnam lacks data about all three.