Hanoi faces waste storage crisis
Xuan Son Landfill in Hanoi's Son Tay Town stopped receiving waste from October 6 due to overloading. Local authorities have had to move all rubbish to the Nam Son Landfill in Soc Son District which is also reaching full capacity.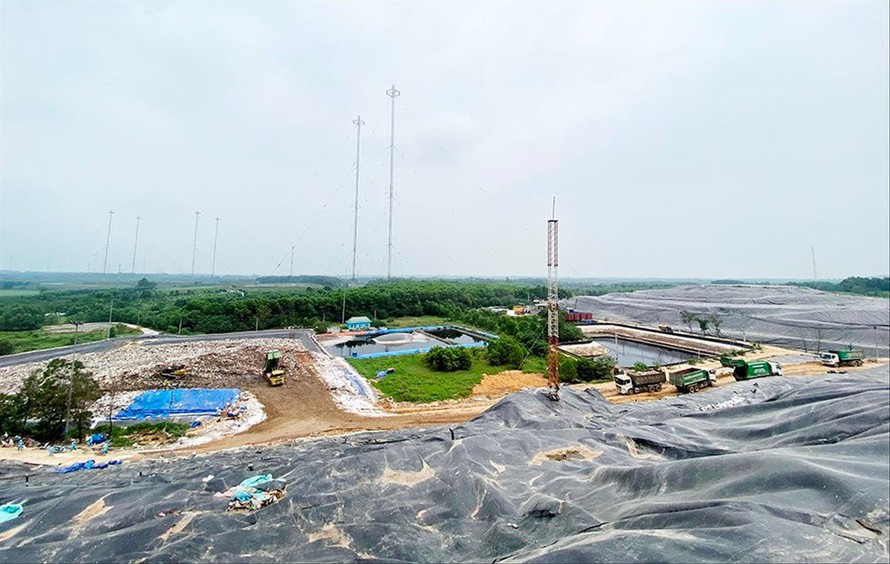 Xuan Son Landfill has closed due to overloading
The city is facing a rubbish treatment crisis.
In an urgent report announced by the managers of the Xuan Son Landfill, all three tailings ponds built to contain wastewater from buried rubbish at the landfill have already reached their capacity. The ponds now contain about 54,000 cubic metres of wastewater while some 3,000 cubic metres more are kept in temporary containers.

"We've been trying to collect the wastewater spill from the overloaded tailings ponds," the report said. "The problems have been temporarily curbed and we have started a 10-day pilot plan to receive 500 tonnes of waste a day from October 20."

The managers have also proposed to build more tailings ponds on a 5.6-hectare area in Ba Vi District.

Over the past two weeks, authorities in Son Tay Town have had to gather rubbish in temporary areas while the Xuan Son Landfill closed. Families in some areas have been asked to keep rubbish in their homes as there were no public places to put the waste.

At present, the capital has two landfills, Xuan Son and Nam Son, which are all treating waste by burying. Both of these landfills have constantly operated beyond their capacity and are now already overloaded.

The Xuan Son Landfill used to deal with 1,400 tonnes of rubbish a day which was 230 tonnes higher than their capacity.

In an effort to deal with the problem, Hanoi People's Committee Vice-Chairman Nguyen Trong Dong has asked the construction department to build a new 2.2-hectare dumping site in Ba Vi District.

Meanwhile, the Soc Son Waste-to-Energy project in Nam Son Waste Treatment Complex which was expected to deal with 90 percent of waste at the Nam Son Landfill failed to finish construction as expected in September.

The project was approved in late 2017 with a total investment of VND7 trillion (USD303 million). Once completed, it will be the largest in Vietnam and the second largest in the world with a capacity of handling 4,000 tonnes of dry solid waste per day.

Speaking with the Tien Phong Newspaper, a representative from the project investor, the Hanoi-based Thien Y Environmental Energy JSC, said that they faced difficulties in employing staff due to the recent Covid-19 outbreak.

Vice-Chairman Nguyen Trong Dong urged the investor to try to put the plant into operation by March next year.
Source: Dtinews