FPT Can Tho University students create disease-prediction app
Pemeprap, a disease-prevention app invented by the students of FPT Can Tho University, allows users to be examined and diagnosed online. The app also gives suggestions on specialized examinations.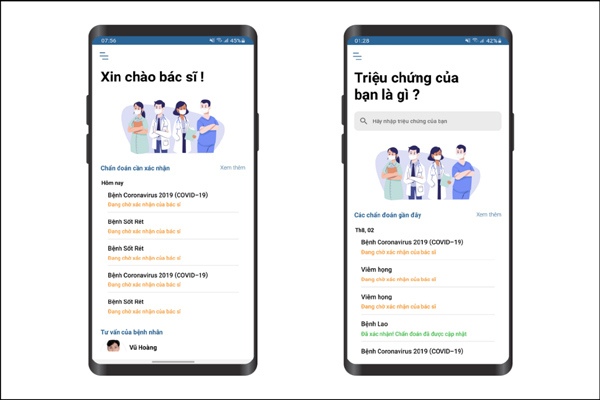 Pemeprap was the graduation thesis of a group of students at FPT Can Tho University, which was successfully defended in August.
The students – Le Nhat Quang, Vu Van Hoang, Kieu Hieu Thanh, Bui Nguyen Nguyet Tam and Nguyen Dang Quoc Khanh - said they developed the app to help people who have difficulties moving to medical units, especially amid social distancing.
Pemeprap diagnoses diseases based on natural language processing algorithms such as separating words and finding synonyms in Vietnamese language, then applies AI Deep Learning technology to make a diagnosis.
User's data is saved after each diagnosis (medical record) and is used during the "re-learning" process to improve the accuracy rate for the following use.
The use is very simple. Patients need to download the app to their smartphones and carry out five steps: 1/describe their symptoms 2/wait for data to be processed 3/receive a diagnosis for the first time 4/waiti for doctors' confirmation and 5/ receive doctors' prescriptions.
Users can have their health examined with 'virtual doctors'. After entering information about the disease symptoms into the system, a chatbot will use AI Deep Learning to analyze the data provided and give the first diagnosis, including the name of diseases, description of symptoms, advice and prescriptions.
After that, 'doctors' will log in the system and confirm the diagnoses, prescriptions through the chatting text between patients and chatbot. If the information given by chatbot is inaccurate, doctors will amend the diagnosis and prescriptions, and give final conclusions. Patients can contact the doctors who confirm the diagnoses.
Pemeprap also diagnoses common diseases from a distance by voice or text. It allows users to use voice if they have difficulty in using the keyboard. It can save the history of the health examination sessions.
Dr Trinh Hoang Thanh, who gave medical advice to the group of inventors, said Pemeprap can help screen or predict diseases, and improve the knowledge about the diseases of patients.
According to Luong Hoang Huong, a lecturer at FPT Can Tho University, the application functions have been tested evaluated and it can predict the nine most common diseases. In order to commercialize this product, students should enlarge the data and experiment it with it first at a hospital facility or a private clinic so that doctors can know, use and provide other disease data to perfect the app. 
Hue Anh

On the occasion of the new academic year 2021-2022, Minister of MIC Nguyen Manh Hung has written the following article about digital transformation in education.

About 20 technology platforms of the National Technology Center for Covid-19 Prevention and Control will be put on BugRank, a platform that detects security vulnerabilities.