Facebook is blamed for going against Vietnam law
Facebook is accused of ignoring Vietnam's law in removing and blocking violated entries on social network.
Facebook, American company offering online social networking services, is believed not to follow Vietnam's regulations on managing content on social media and tax obligations.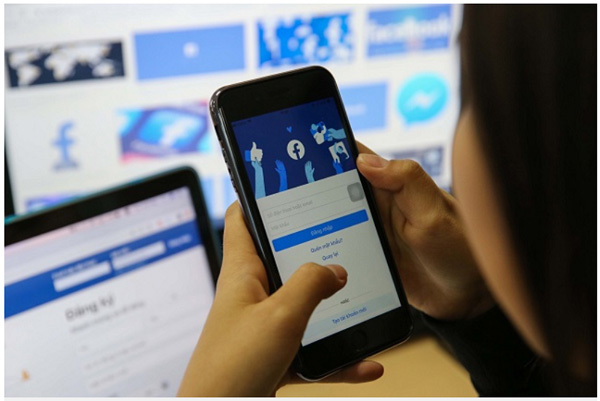 Facebook is blamed for ignoring Vietnam's request on removing and blocking violated entries and accounts. Photo: Hoang Trieu/Kinhtedothi
Local media reported that Facebook has ignored the Vietnamese government's request to allow series of content that infringes Vietnam's law and customs.
The content varies from entries going against the traditional culture, fake news, and information for anti-state purposes.
Facebook has slowly responded to the request on removing violated entries or blocking accounts.
The deliberate ignorance of opening representative office in Vietnam and refusal to cooperate with Vietnamese authorities has resulted in tax loss from the company's revenues in Vietnam which is estimated to reach US$1 billion per year.
This uncooperative behavior has also caused unfair operations between Facebook and domestic social network providers.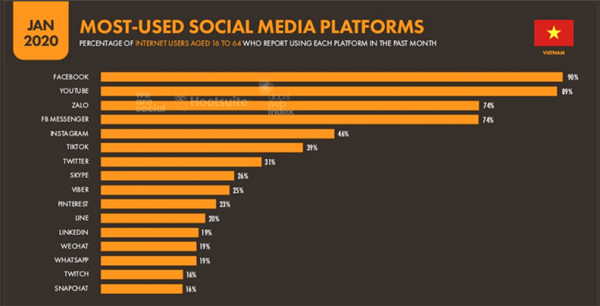 Facebook remains the most-used social network in Vietnam. Source: We are social, Hootsuite
Minister of Information and Communications Nguyen Manh Hung has insisted on asking Facebook to obey Vietnam's law.
Speaking at the National Assembly's interpellations in November 2020, he said that the ministry has worked with authorized agencies to sort out regulations on justice, communications, taxation, and technologies that transnational service providers like Facebook need to obey.
Regarding the tax obligation, Nguyen Duc Huy, deputy chief of Office at General Department of Taxation under the Ministry of Finance, said the tax agencies have cooperated with relevant bodies and commercial banks to control the cash inflows of personal and organizational recipients who post extraordinary income from social network.
A survey by We are social and Hootsuite showed that there were 68.17 million internet users in Vietnam as of January 2020.
Meanwhile, the number of social media users in Vietnam reached 65 million as of January 2020. Facebook took the lead in the most-used social media platform in Vietnam with 90% of total users.  Hanoitimes 
Linh Pham

Facebook has removed 2,311 posts that violated Vietnamese laws from its platform since the beginning of the year, up by 400 per cent compared to the whole of last year.  

The management of Facebook and other cross-border social networks need to have specialized rules to enable the fair development of all social networks.