Experts worry about the fate of Mekong Delta

If uncontrolled sand exploitation continues, Mekong Delta will disappear in the future, experts warn.
There are 564 land erosion sites with total length of 830 kilometers, including 510 riverbank sites with the length of 560 kilometers.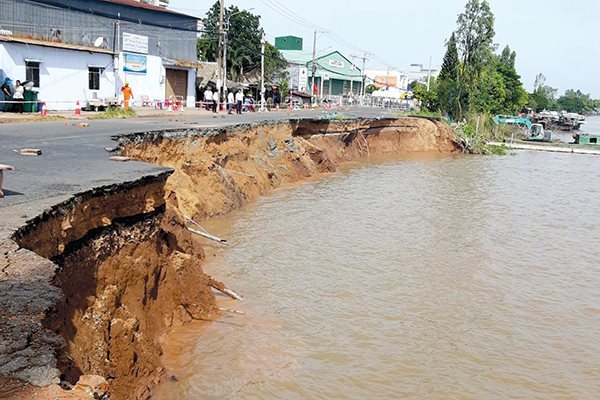 The figures were released at a working session between Deputy PM Truong Hoa Binh and the An Giang People's Committee on August 21 after the Deputy PM inspected a landslide site on Highway No 91 in Chau Phu district in the province.

Landslide images appeared in all newspapers and was a hot topic among the public. The local authorities decided to put sandbags in the place, but the efforts were in vain.

Le Anh Tuan, deputy head of the Climate Change Research Institute under the Can Tho University, said the decline in alluvium and sludge caused the landslide.

There are 564 land erosion sites with total length of 830 kilometers, including 510 riverbank sites with the length of 560 kilometers.
Nguyen Huu Thien, an independent researcher, warned that if 11 hydropower dams are built on Mekong River upper course, sand will not be able to reach the Mekong Delta. If exploiting sand, the river bed will become lower. At present, Tien and Hau river beds are 1.3 meters deeper than 10 years ago.

Thr coast has also suffered from landslides. The 250 kilometer coastline section from Tien Giang to Soc Trang has been the most seriously hit.

"Sand won't come in the future," Thien said, adding that if people continue exploiting sand, they will have to 'sacrifice' the Mekong Delta.

According to Thien, there are factors which determine the vulnerability of riverbank erosion.

First, the more loose the soil is, the less cohesive it is. The soil on Tien and Hau riverbanks in An Giang and Dong Thap is sand. Second, the heavier the specific gravity of the soil is, the easier it is to collapse.

Third, collapse could also occur if the riverbank is higher than the bottom of the river. The water content in soil and the slope of the riverbank will also have an effect.

Duong Van Ni from the Can Tho University said that characteristics of the landslide in An Giang are different from that in Can Tho and Hau Giang, while the landslide in the beginning of a river is different from that in the middle of river.
Therefore, it is necessary to discover reasons for the landslides and apply suitable solutions, rather than apply the same general measures for all cases.

Meanwhile, Thien said all actions taken so far were ineffective because the major problem here is the lack of sand and alluvium.
Linh Ha 

The Mekong Delta region is sinking between 2 and 5cm per year, Lao Dong newspaper reported, citing source from the German Agency for International Cooperation (GIZ).

All 13 provinces in the Mekong Delta region are seeking investment in 128 culture, sports and tourism projects at an investment promotion conference today, September 4.