eSports: the multi-billion dollar game

Game distributors in Vietnam are focusing on eSports, which has had impressive growth rates in both players and viewers in the country.
In early August, when episode 3 of the reality show Shark Tank Vietnam was broadcast, it raised waves in the eSports community in Vietnam.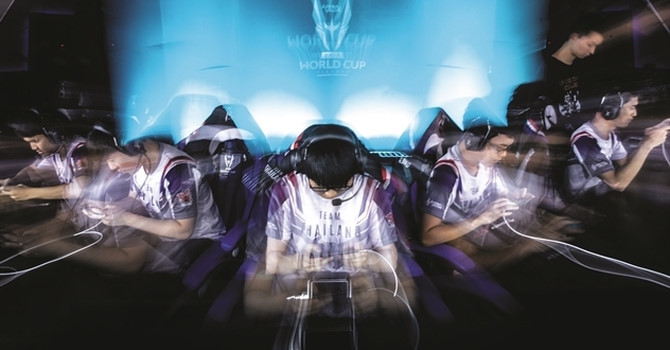 The call for capital by Divine Esports, a brand that distributes copyrighted games and eSports products, and organizes eSports tournaments, was rejected by the sharks.

The fact that venture investors refused to invest in an eSports project stirred controversy, because eSports is considered a very promising business.

A report on mobile games issued by Appota showed that in 2018 Vietnam had 33 million people playing games on mobile phones, 45 percent of whom were eSports' fans.

In early August, when episode 3 of the reality show Shark Tank Vietnam was broadcast, it raised waves in the eSports community in Vietnam.
An Anh Vu from Vietnam Esports (VED) noted that the number of online eSports viewers is very high, just second to the number of football viewers.

Duong Vi Khoa, head of the eSports division of the Vietnam Recreational Sports and E-Sports Association (VIRESA), said eSports is a big industry globally. Vietnam is a more attractive market than other regional markets.

VED, belonging to Sea, from Singapore, has had the biggest investment in eSports so far. Since 2009, VED has been distributing the games in Vietnam with tournaments organized in a very professional way.

To date, no eSports investor has announced their revenue in Vietnam. However, Newzoo, a market analysis firm, believes that the eSports industry will hit the $1.1 billion threshold in 2019, an increase of 26.7 percent compared with the same period last year.

According to Nguyen Minh Quang, managing director of Gamota HCMC Branch, eSports games are mostly from China, and the royalty is high. Distributors have to make big investments in infrastructure items.

They also have to employ marketing officers and spend big money to organize tournaments. In other words, while the operation cost is high, the revenue from eSports remains modest.

While it takes role-playing game distributors only six months to take back the investment capital, it takes eSports game distributors 1.5-2 years. Investors can recover the investment capital if their games are among the top 3 in terms of popularity.

Though it is still difficult to make a profit with eSports, game distributors in Vietnam believe that the market is full of potential and deserves selective investments.

VNG, a big game distributor, has distributed PUBG Mobile Vietnam and Mobile Legends: Bang Bang. The company has spent VND5 billion to organize a tournament for the game.

Gamota, which is thought to be less powerful than VNG and VED, has also quietly jumped into the eSports field.
Kim Chi 

The drastic measures applied by state management agencies and the appearance of new business models promise to create a healthy online game market that is sustainable and legally compliant.