Environment ministry kicks off National Plastics Action Partnership
The Ministry of Natural Resources and Environment kicked off the National Plastics Action Partnership and the Mitigating Marine Plastic Debris Project in Vietnam yesterday.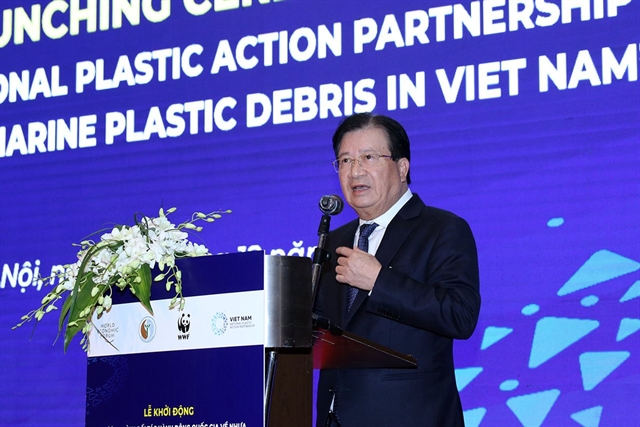 Deputy Prime Minister Trinh Dinh Dung delivers his speech in the launching ceremony yesterday in Hanoi. 
The National Plastics Action Partnership is a co-operation between the Government of Viet Nam and the Global Plastics Action Partnership – a platform for many World Economic Forum's participants to fulfill commitments to reduce plastic pollution and build a circular economy.
Speaking at the launching ceremony, Deputy Prime Minister Trịnh Đình Dũng said the event once again affirmed the economic development strategy in parallel with the protection of the environment and ecosystem of Viet Nam, with the viewpoint of "not trade-off environmental integrity for economic growth".
Dung added that plastic waste was now considered a "red alarm" and an urgent problem in the ASEAN region and the rest of the world.
Most plastic waste, without treatment, was burned and dumped in landfills in the environment or throwing into the ocean, causing serious pollution, he said.
Since 2018, in response to the theme "Addressing plastic and nylon pollution" launched by the United Nations, the Government of Viet Nam actively participated and proposed global and regional co-operation mechanisms on reducing plastic waste at many international forums such as the G7 Summit in Canada, the World Economic Forum on ASEAN in Viet Nam in 2018 and the World Economic Forum in Davos in 2019, he said.
Dung called upon agencies, enterprises, international organisations and the whole society to work with Government to reduce plastic waste.
To do that, authorised agencies were told to establish a national framework of the responsibility of producers of plastic products, set up a system of standards and regulations on plastics and microplastics and transform the plastic manufacturing industry towards sustainability and environmental friendliness, he said.
He said it needed to increase recycling and the reuse of plastic waste and strengthen scientific research and application and technology transfer for plastic recycling and plastic production following modern technologies.
It was necessary to raise public awareness of smart and sustainable plastic consumption behaviour, sort out domestic solid waste at source as well as limit the use of disposable plastic products and hard-to-degrade plastic bags, he said.
"The Vietnamese Government will create favourable conditions for the National Plastics Action Partnership to be successfully implemented, becoming a typical model for management and use of sustainable plastics," he said
Viet Nam would act strongly and responsibly to reduce plastic waste in the region and globally, he said.
Kristin Hughes, Director of Global Plastics Action Partnership, said Viet Nam officially became one of the pioneering countries applying the model of multi-subject co-operation to accelerate activities on plastic waste reduction, along with Indonesia and Ghana.
Hopefully, she said, the lessons learned and success from the partnership programme would encourage similar ambitious initiatives in other countries in the Asia-Pacific region.
Minister of Natural Resources and Environment Tran Hong Ha said Viet Nam was one of the three pioneering countries implementing the Global Plastics Action Partnership's initiatives.
In the period 2010-20, the plastic industry is one with the highest growth in Viet Nam. The consumption index of plastic per capita increased rapidly, from 3.8 kilos each person per year in 1990 to 41 kilos each person per year in 2015 and now about 54 kilos each person per year.
The numbers show that the demand for using plastic products in the country is increasing. Currently, there are about 2,000 plastic enterprises nation-wide, including 450 enterprises producing plastic packages and bags. — VNS

Pham Thanh Tri from Quang Ngai founded EcoFish Vietnam to teach young people to classify and reuse plastic waste.

Vice chairman and general secretary of the Vietnam Responsible Care Council Do Thanh Bai spoke about plastic waste recycling and technology.