Enduring battle to save beaches from erosion
Inclusive and sustainable solutions are in urgent need to rescue beautiful beaches along Vietnam's central region amid the increasing frequency of landslides and sea erosion in the area.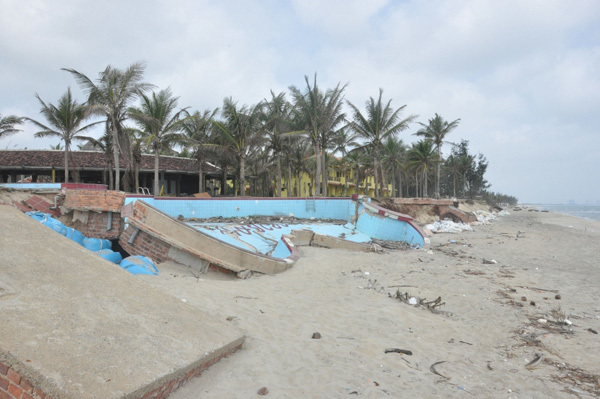 Sea erosions have long become an obsession to people in many localities in the central region.
Stunning beaches with white smooth sand banks are distinct tourism advantages of localities in the central region. Sea-based tourism has brought significant income sources to central localities, luring in huge capital volumes from local and foreign businesses. Sea erosion and landslides, therefore, are posing a real threat to this region's sustainable tourism development.
Cua Dai Beach in Quang Nam Province's Hoi An City, once touted as Vietnam's most stunning beach, has been lost to the sea years ago. Nguyen Binh, a resident living in Cam An Ward of Hoi An, noted that landslides had affected the beach for more than a decade. Not only that, the area suffering from erosion has been expanding.
"Erosions took place swiftly, and many coastal resorts and restaurants fell into the sea due to landslides during the 2020 rainy season. When will this end?" he said. 

Many seminars and conferences have taken place in order to find the root of the cause and present solutions to troubleshoot the dilemma, yet the main cause remains an open question.

Sea erosion has long been an obsession to the people of Hoi An. With each rainy season, the sea encroaches deeper into the mainland, casting a drastic impact on local tourism and sweeping away many hotels and resorts. In 2020's stormy and rainy season, several hundred square metres of Hoi An Beach were swept away, damaging many beachside restaurants and resorts. The erosion has also affected An Bang Beach, a renowned beach in Hoi An.
Nguyen Thanh Sang, the owner of Palm Garden Resort in the area, has invested in building a firm embankment surrounding the resort site. While other resorts in the area were swept away, his resort stands firm – but as much of the beach area has been swept away, his resort has also suffered critical losses.
"Sea erosion has reached a critical level along Hoi An's beaches. We urgently need an inclusive solution, more than just building an embankment at each erosion site. Some of the most stunning beaches will soon be swept away unless we put suitable solutions in place," Sang warned.
Not only Quang Nam, many other localities in the region are also facing a similar fate. In Danang, the erosion has reached the coastal ring roads in Son Tra and Ngu Hanh Son districts late last year.
According to the Da Nang Department of Natural Resources and Environment, erosion has occurred at six sites along Da Nang's beaches since 2017.
In Thua Thien-Hue Province, dozens of instances of erosion were reported along more than 14km of coastline in Phu Loc, Phu Vang, and Phong Dien districts, and Huong Tra Town. In many sites, the situation has reached critical levels. Sea erosions are also a fact of life in Phu Yen and Khanh Hoa on the south-central coast.
According to Nguyen The Hung, deputy chairman of Hoi An city, Cua Dai and Cam An wards of the city are home to more than 7,000m of seriously eroded beaches.
A string of projects on building sea jetties have sprung up across Hoi An since 2010. Some of the most eminent projects include a 851m-long reinforced concrete jetty along Cua Dai Beach from Vinpearl Hotel to Sunrise Hotel at a cost surpassing $2.9 million in 2010; a 415m "soft" jetty by geotech bags from Victoria Hotel to Hoa Hung Restaurant at a cost of approximately $870,000 in 2014; and another, 1km soft jetty from Victoria Hotel to the northwest for around $2.36 million in 2015.
Most recently, efforts were put into building a 220m underground jetty in Cua Dai Beach worth $1.73 million in total investment value. These activities, however, are unable to effectively avoid erosions. Many seminars and conferences have taken place to identify the root cause and present solutions, yet the main cause remains unidentified.
"Hoi An Beach, one of most precious assets in the city, is losing its glamour due to increasingly severe erosion expanding to the north. Hoi An City will inject VND600 billion ($26 million) into an emergency jetty at Cua Dai Beach, and requesting central budget support for emergency treatment of critical sea erosions," said Hung.
According to Vo Nguyen Chuong, deputy director of the Da Nang Department of Natural Resources and Environment, it is essential to have science-based assessments to identify which factors impact regional links, finding radical measures to minimise the negative impacts of erosion.
Chuong also said Da Nang has been working on a comprehensive plan to establish a defensive corridor along the city's beaches.

According to figures by Quang Nam Department of Agriculture and Rural Development, new cases of erosion have been detected along the province's beaches in Nui Thanh, Thang Binh, and Duy Xuyen during 2020's rainy season, not only badly affecting people's lives, but also casting a shadow on the development of a string of urban and resort projects along the coastal ring road from Hoi An to Nui Thanh District.
With bountiful advantages for tourism and urban development, many sizeable resort projects have come on stream along local beaches such as Vinpearl Nam Hoi An by Vietnam's leading conglomerate Vingroup as the developer, and the $4 billion Hoiana mixed-use resort development, providing a huge catalyst for local development.
The province is working on the eastern region's development planning, reaching a consensus on preserving natural landscape and environment as the pillar for future sustainable development.
VIR

Beaches in the central city of Da Nang continue to face severe erosion after rain, raising concerns among local residents.

The central province of Quang Nam has allocated a fund of VND300 billion (US$13 million) to build an underwater dyke system protecting Cua Dai Beach from erosion.