DTS Software Vietnam wins Sao Khue Awards 2021 for new software products
Passing over 300 solutions and services of 161 companies, Walk-in-home, a design software product developed by DTS Software Vietnam Co., Ltd. has been awarded Sao Khue Award 2021.
Sao Khue 2021 is the most prestigious and prestigious award in the software and IT service industry in Vietnam in the category of New Software Products and Solutions.
According to the overall evaluation from the judges of Sao Khue Award 2021, most of the IT services, software products and solutions this year has risen to a whole new level with the implement of leading-edge technologies such as AI, Cloud, Big Data, IoT and Blockchain.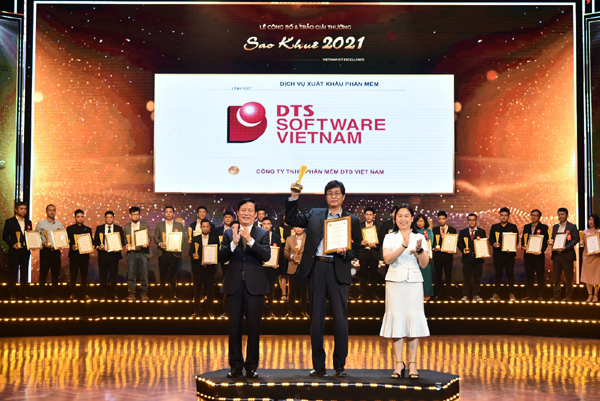 Mr. Nobuhiro Nakatani - representative of DTS Vietnam received the software export service award at Sao Khue 2021
Sao Khue Award 2021 also recognizes the strong investment of businesses in developing new software solutions, especially in the case of DTS Vietnam's Walk-in-home Wooden House Design Product.
"As a member of Japan's leading IT group DTS Corporation, in order to become a strategic company in software development and BPO field of the group, during 7 years of operation, since April 23, 2014, with continuous innovation and improvement, it is our honor to receive this award. This affirms the exalted status of DTS Vietnam within the group as well as the potential of Walk-in-home on the home ground," said Mr. Nobuhiro Nakatani - General Director of DTS Vietnam Software Company.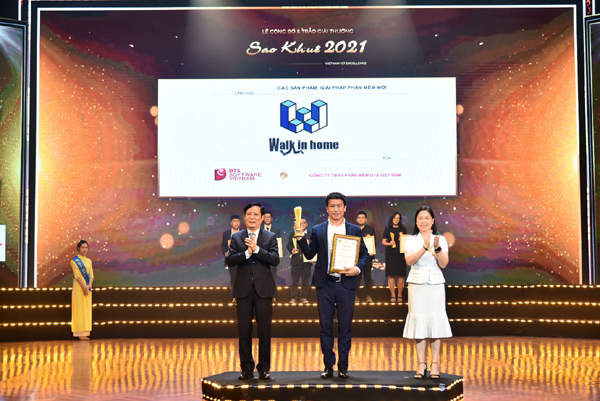 Mr. Dinh Ngoc Thi - General Manager of the Development Department of DTS Vietnam received the Award for Outstanding Product / Solution of Vietnam Software and IT Industry with WIH products
With the strength of software development services, DTS Vietnam has researched and improved its products, especially Walk-in-home. This product provides drawings following strict standards and regulations of Japanese construction law along with architectural simulation images to help customers understand the most accurate future home they are looking forward to.
"Specifically, Walk-in-home is not only responsive in terms of 2D or 3D images, but it also has a virtual reality element. This is an outstanding superiority of the product compared to other competitors. Customers can 'walk' in the house, see every corner of their future home. They are also equipped with simple access to the drawing on their phone through scanning QR code without involving the computer or operating the software," said Mr. Dinh Ngoc Thi - General Manager of the Development Department.
For Walk-in-home, in addition to 3D properties, the submitted product can also be assigned with properties of materials, sizes, types and even the price, which will be updated continuously. This would make the drawings more accurate and efficient in comparison with traditional products.
"With Walk-in-home, it only takes 3.5 - 4 hours to submit a set of drawing records including ground, standing, angle perspective, perspective and cover. Additionally, Walk-in-home integrates both 2D and 3D to make it easier for drawings management than current products in Vietnam. Notably, the properties assigned to objects in the drawings in this software are customizable to make automatic extraction of quotes very easy so there is no need to make an estimation in the process of completing the drawing," said Mr. Thi.
"We had to arrange for software developers to obtain internship from Japanese first-level architects, the highest rank of Japanese Architects, to understand the wishes and needs of customers so that the most professional products could be delivered to them," added Mr. Thi.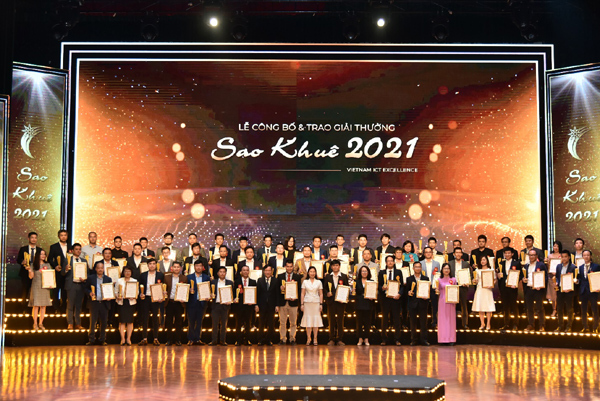 Enterprises honored at the announcement and awarding ceremony of Sao Khue Award 2021
As a subsidiary of DTS Japan Group, the top 10 software company in Japan, DTS Vietnam has a great advantage in having great exposure to the most modern technology platforms, receiving experiences and advice from both local and international leading experts quickly.
Target customers of Walk-in-home are mainly Japanese construction and design companies. However, with the recent achievements attained at Sao Khue Awards 2021, DTS Vietnam said that they are ready to cooperate with construction and home design companies in Vietnam.
"In the coming time, we aim to target the Vietnamese market. Soon, we will build a sales network for Japanese housing companies in Vietnam, which is quite a potential market because many Japanese companies now prefer outsourcing, especially Vietnamese ones. Moving forward will probably be the development of customization specialized for Vietnamese architecture," said Mr. Thi.
Van Dang