Documentary highlights plight of abused animals
An award-winning English filmmaker has made a documentary highlighting the plight of abused and unwanted animals in Vietnam.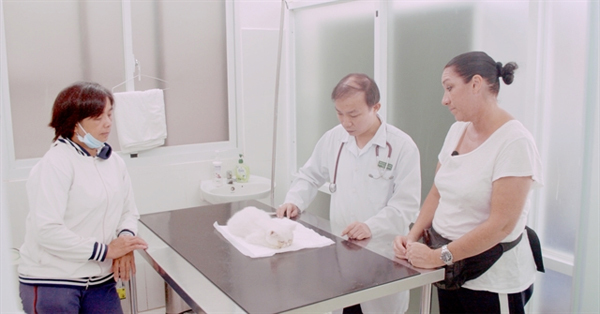 Elizabeth Homfray, founder of Laws for Paws Vietnam (right) and Dr. Nguyen Van Nghia (centre) examine a cat at the Saigon Pet Veterinary Clinic. Photo Louis Corallo
Louis Corallo, 35, has produced Laws for Paws Vietnam, a 30-minute film focusing on the efforts of animal lovers in HCM City and the work they do to save neglected dogs and cats.
The documentary premieres on Monday during a fundraising event at the Soma Art Centre in HCM City.
Louis, who has made movies, documentaries and music videos during five years living in Vietnam, had the idea for this latest feature not long after arriving in the country.
"At that time, I was new to the culture and so, therefore, came across a lot of new things, both good and bad," he said.
After encountering a badly injured dog during his early days in Vietnam, Louis began to take a serious interest in animal welfare, and a seed was planted to bring the plight of the abused animals to the big screen.
"It was the worst thing I had ever seen up until that point," he added.
"That was when I found out that this occurrence is rather common due to the criminal efforts within the dog meat industry. That was the dark side of Viet Nam that I was warned about.  
"From there, I began to learn about animal welfare, or rather the lack it."
It was then he met Elizabeth Homfray, an Australian who founded Laws for Paws Vietnam. She would eventually become central to the production.
Louis said: "I have to thank Elizabeth for allowing me to share her story. 
"We ended up shooting for a whole week covering a number of things that are typical of Elizabeth's schedule.
"I can't say we planned anything in particular because how can you predict when a dog needs to be rescued or treated? In some ways, I was at the mercy of the film gods and could only hope to be available when the story happens.
"In front of the camera, Elizabeth provided context and did a brilliant job for someone so raw, but up for it.
"I found her to be incredibly charismatic, humble, emotional and surprisingly not at all judgmental, but rather someone who aims to understand so that she may reach a solution."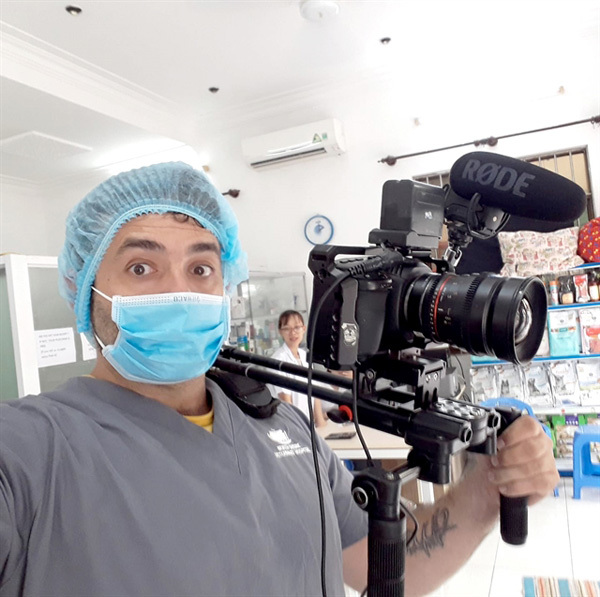 Filmmaker Louis Corallo. 
Also featured in the documentary is Vietnamese veterinarian Nguyen Van Nghia from Saigon Pet Veterinary Clinic, who has dedicated his life to helping neglected animals.
"He is what happens when you blend Dr Doolittle with Vietnam," said Louis.
"He is a deeply impressive and extremely intelligent man. I found him to be friendly, funny and quirky, like a mad cocktail blended with an intense generosity towards animals.
"I am so incredibly appreciative of his surgical skills. It is a real sight to behold when a man as gifted and humble-living as Dr Nghia undertakes keyhole surgery for injured dogs."
Tackling the issues surrounding Vietnam's dog meat trade can often meet with a negative reaction from locals, especially when the subject is approached by foreigners.
"Being a 'guest' does not mean I should maintain silence," he said.
"This kind of response usually comes from people who get offended because they are uninformed and won't allow themselves to learn because their ego is at stake, so they try to disqualify a person rather than try to understand a point of view that could actually help them.
"I am not dictating anything. What I am doing is showing. After that, it is up to the viewer what they want to do with that information."
The end goal for the documentary was always to improve animal welfare in Vietnam. And while Louis knows that will be an uphill struggle, he hopes by making this movie, more eyes will be opened to the pain and suffering of animals.   
He said: "Both Elizabeth and Dr Nghia have put into action some really inspiring work, but it is in the hands of the Vietnamese to decide in which direction they want their culture to grow.
"I do believe that the work of Laws for Paws Vietnam will have a big say in that growth since the evidence of change over the years is already there to be seen."
Laws for Paws Vietnam will be screened on Monday at the Soma Art Lounge at 6 Le Van Mien Street, Thao Dien Ward, District 2 from 8.30pm. VNS
Paul Kennedy 

Young wildlife conservation scientist Trang Nguyen, full name Nguyen Thi Thu Trang, has dedicated herself to protecting our wonderful world. She talks to Minh Thu about the ambition and enthusiasm.
Director of the Centre for Natural Resources and Environmental Studies Trinh Le Nguyen talks on Vietnam's efforts to eliminate the wildlife trade