Concerns raised as starfish abused for selfies in Phu Quoc
Many starfish have died after being taken ashore for selfies by visitors to Phu Quoc Island.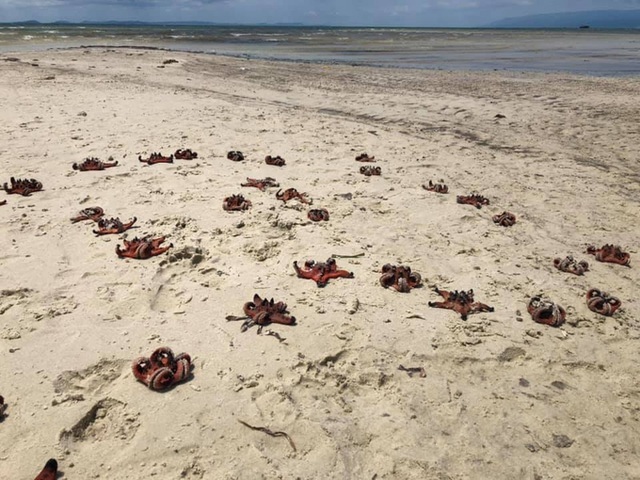 Dead and dying starfish on the beach


A photo showing dying starfish on Phu Quoc beach has raised public anger about uncaring tourists.
The photographer said she and her family visited Phu Quoc and were brought to the beach by a taxi driver on April 2. The taxi driver said the beach had a large number of starfish which visitors could take out of the water and brought onto the beach to arrange them into different shapes to take selfies. When she arrived, what she saw was many dead and dying starfish on the sand.
Celebrities who had taken selfies with starfish were also criticised.
Tien Hung, a tour guide in Phu Quoc, said Rach Vem beach is known as starfish heaven. The best visiting time is from March to May. However, taking starfish to ashore for selfies will kill them. He also said that there were no signs on the beach yet to ban the behaviour.
"Starfish can only breathe in the water," he said. "I always ask visitors to not take the starfish out of water. If everyone takes them out of water for selfies and leaves them there, they will die and such action will badly affect the marine ecosystem."
Le Chien, a representative of Sasa Team Marine Animals Rescue, said taking any animal out of its habitat and leaving it to die is an action that needs to be condemned, even touching the starfish barehanded already poses some risks because human hands often have various chemical substance like moisturisers or sunscreen.
"In Thailand and Philippines, tourists may be fined USD600 to USD2,000 for touching the coral reef for a selfie. Such punishments are rare in Vietnam and it's time we change the tourists' behaviour and awareness," he said.
dtinews

Three Vietnamese companies have won a regional challenge to combat plastic waste in Ha Long Bay.