CNN broadcast highlights sneakers made from coffee grounds
Vietnamese sneakers made from discarded coffee grounds and plastic bottles have been introduced by CNN in their "Innovate" programme.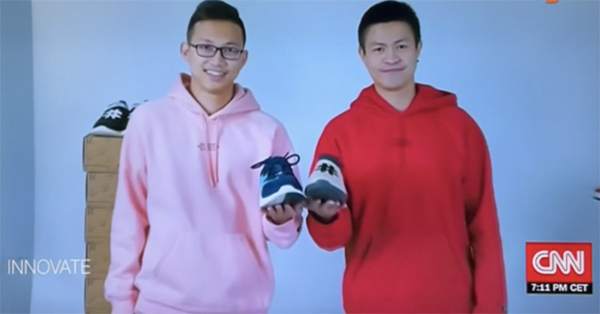 Founders of Rens Original, Jesse Khanh Tran and Son Chu, appear in "Innovate" programme of CNN. (Photo credit to CNN)
The project has been co-founded by Jesse Khanh Tran and Son Chu, two young Vietnamese men studying and living in Finland.
The duo originally established Rens Original back in 2019 with the aim of reducing the impact that sneaker production has on the environment by making use of residual coffee grounds and recycled plastic as raw material for shoes. Indeed, this was the first time that this process had ever been done globally.
The Helsinki-based startup first launched its coffee sneakers that same year and raised over US$500,000 in less than 24 hours, thereby making it a global phenomenon.
According to CNN, "zero waste" products such as sports shoes produced from Vietnamese coffee grounds are poised to rapidly become both a popular and indispensable part of modern life and society as a whole.
The recognition by CNN comes after the two Vietnamese students were named among the Social Entrepreneurs category of the 2020 Forbes 30 Under 30 Europe list, which highlights "young visionary leaders brashly reinventing business and society."
Source: VOV

More and more startups nowadays are committed themselves to finding innovative solutions to environmental problems. 

Two young Vietnamese entrepreneurs have developed a unique way to make sneakers, and they hope their idea be a wake-up call for the training shoe industry.