Bac Ninh struggles with illegal waste dumping

Districts in the northern province of Bac Ninh are being polluted by untreated industrial waste and local authorities have failed to come up with any solution so far to improve the situation, the Vietnam News Agency reported.
Illegal dumping of industrial waste causes pollution in northern province
Illegal dumping plagues Hanoi
Town filled with rubbish as dumping site overloaded
Toxic waste poses environmental threat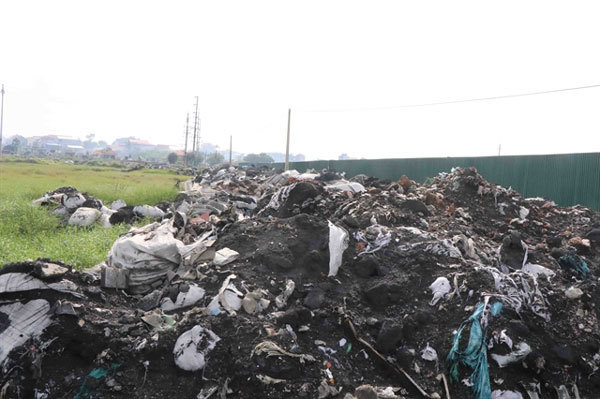 Garbage piled up in Van Mon Commune, Yen Phong District, Bac Ninh Province. – VNA/VNS Photo Thai Hung
At a dumping site and along a dyke in Ngo Xa and Long Chau communes, Yen Phong District, broken glass, plastic and fabric are easily spotted. Smoke from burning waste often choked the local community.
The situation has been getting worse for a long time.
According to Nguyen Hong Thach, deputy head of Long Chau Commune People's Committee, people take advantage of night hours when the environmental protection team is off duty to dump their waste.
Nguyen Van Tan, head of Man Xa Village in Yen Phong District's Van Mon Commune, said that since 2005, local residents have been importing untreated waste. Some companies even make deals with people to sell them garbage. Much of the unrecyclable waste is directly discharged into paddy fields and ponds, leaving many hectares of agricultural land barren.
The provincial police have handled 49 cases of environmental violations involving illegal transferring, receiving and discharging of solid industrial waste since the beginning of 2019.
Five companies were found to have discharged wastewater that does not meet environmental standards.
Earlier this month, Bac Ninh Province Environment Police seized seven containers transporting 200 tonnes of broken electronic components.
Poor waste management and the lack of co-operation among related agencies have created opportunities for illegal waste disposal.
According to deputy head of Bac Ninh Province Environmental Police Department Đoàn Phong Sơn, 25 waste treatment companies are licenced to operate; however, untreated waste is piling up because individuals keep buying garbage.
While factories are asked to signed contracts with these plants, the percentage of waste that is collected in industrial zones and traditional craft villages remains low.
Luu Xuan Hung, head of the provincial department of environment protection, urged collaboration between the Department of Natural Resources and Environment and Environmental Police to share information and come up with preventative solutions to put an end to the illegal discharge of untreated waste.
Bac Ninh Province is home to 16 industrial zones and 38 industrial areas on a total area of 10,000ha which annually generate some 48,000 tonnes of waste including 17,000 tonnes of hazardous waste.
VNS