Bac Kan to prosecute deforestation culprits

Police in Bach Thong District, Bac Kan Province have reported that they are rushing to file prosecution documents against people involved in recent incidents of illegal deforestation.
Kim Hy Park under threat in Bac Kan
Illgal gold mineral exploitation rampant in Bac Kan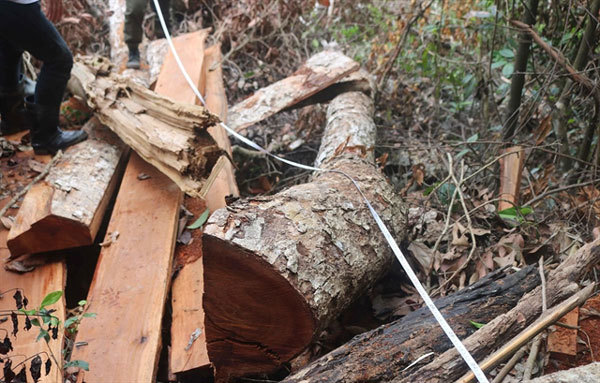 Dozens of trees were illegally felled in the protective forest in Bach Thong District, Bac Kan Province. — VNA/VNS Photo
Nearly 60 trees were chopped down in the protective forest in the area between the district's Sy Binh and Vu Muon communes, vietnamplus.vn reported.
Rangers also found many trees which cut into small pieces in streams and at the forest's edge.
This is considered the largest ever destruction of natural forest land in the district.
According to Trinh Vu Ngan, head of the district police, three of three of the 15 people who have been summoned in the case are local officials.
The case was kept secret from commune authorities and forest rangers. Many locals knew about the situation but were afraid to denounce the offending parties, the newspaper reported. As a result, the deforestation continued unchecked for a long time.
Trieu Van Tue, a forest ranger in charge of Si Binh Commune, explained that his unit holds regular checks but had not yet patrolled the damaged area, so they did not know about the deforestation.
He also said the patrol system was ineffective because each ranger was in charge of protecting more than 2,000sq.km of forest.
The deforestation was the fault of local forest rangers, said Nguyen Huu Thang, head of Bac Kan Forest Protection Department.
Head of Vu Muon Commune also admitted the situation was partly due to poor management.
VNS