Agencies urged to handle livestreams and chat groups with bad content
The Ministry of Information and Communications (MIC) has asked provincial and municipal authorities to strengthen management and handle violations of information on social networks.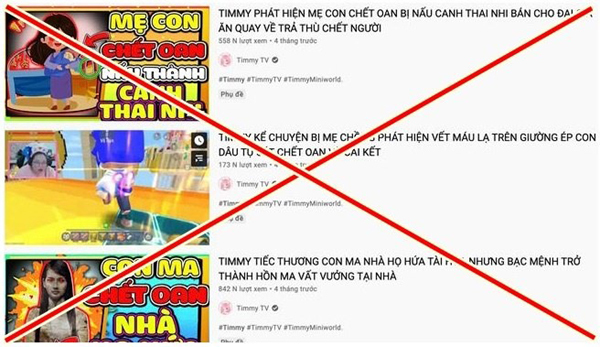 Timmy TV channel provided superstitious information
Social networks, especially the cross-border platforms of Facebook and YouTube, attract a high number of internet users.
According to MIC, the strong development of social media has brought both positive and negative effects to society.
In an effort to mitigate negative effects, MIC has strengthened management and joined forces with local authorities to promptly handle violations.
Since 2017, MIC has instructed local information and communications departments to punish YouTube and Facebook users who violated the laws. Hoang Anh – Timmy YouTube channel, Hung Blog, Hung Troll and Tho Nguyen were among them.
Most recently, the inspectors of the HCM City Department of Information and Communications on May 27 signed a decision on imposing a administrative fine of VND15 million on the creator and provider of Timmy TV channel.
The owner of the channel, N.H.H.A, born in 1998, was fined for providing bad content on internet, affecting the healthy development of children. The information was superstitious and contrary to the nation's habits and customs.
H.A was asked to close a channel prior to May 28, 2021. Prior to that, on May 19, the owner of Timmy TV posted a video clip apologizing for the behavior and hid the video on the channel.
YouTuber Tho Nguyen has been imposed the fine of VND7.5 million by the authorities of Binh Duong province for posting superstitious content.
Until the channel was forced to shut down, Timmy TV, operational since February 20, 2018, had posted hundreds of videos targeting children. It had 775,000 subscribers and had attracted 141 million.
MIC has also asked Google to shut down many YouTube channels owned by Vietnamese users which posted illegal content.
As the state management agency in charge of information on the internet, MIC has found that a lot of people using social media features have published illegal content.
This includes content that offends the honor and dignity of organizations and individuals, uses offensive language, violates fine customs and traditions, spreads fake news, and advertises services illegally. These actions have caused anger among the public and affected social order and safety.
Local information and communication departments and the police need to strengthen inspections to timely discover violations on the internet, especially on social media, and strictly punish the violators, MIC said.
If they cannot detect the identities of the violators, they need to cooperate with MIC and Ministry of Public Security to develop reasonable solutions. 
Trong Dat

Most owners of the videos with titles "delete channel" and "last videos" on YouTube are still operating.

After two days working with YouTuber Tho Nguyen, the authorities of Binh Duong province have imposed a VND7.5 million fine fine on the popular vlogger.