Actions urged to benefit from future ICT prospects
The first six months of 2021 witnessed some impressive highlights in the telecoms industry.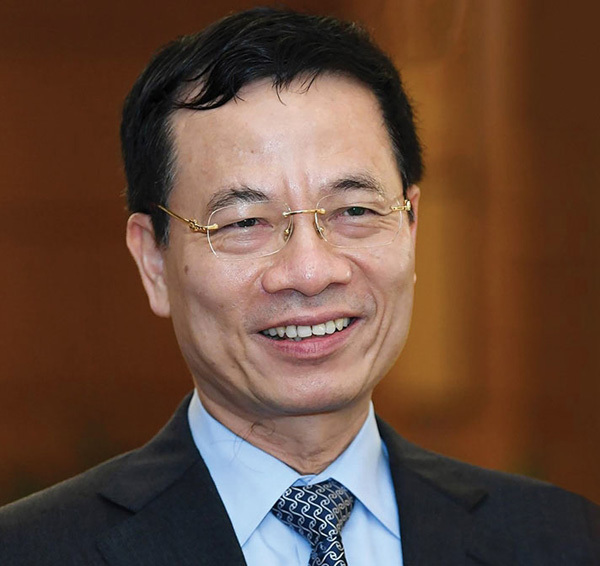 Nguyen Manh Hung, Minister of Information and Communications.
Telecommunications revenues rose 5 per cent, mainly attributed to mobile broadband (up 14 per cent) and fixed broadband (up 8 per cent). However, phones and texting strongly fell at 11 per cent. Therefore, to enable high growth, we cannot rely on only traditional spaces – we need new spaces for development. This means an extension of telecommunications concepts and business if we want to grow over 10 per cent.
The broadband rate, both mobile and fixed, rose 35 per cent but the national international ranking remains in the top 60. Thus, mobile network operators have to pay more due attention to service quality. Our target is to be in the top 30. The ministry has completed a measurement system on service quality and will measure and announce on the quarterly basis.
There are some important issues to be focused on from now to the end of the year.
First is completing digital technology platforms to serve COVID-19 prevention and fight in cities and provinces. Secondly, we have to increase the rate of online public services at level 4 from the current 41 per cent, with the target of reaching 100 per cent. Third is putting into operation virtual assistants to support state staff.
There must also be a focus on granting 4/5G frequency; developing agro platforms into e-commerce platforms; completing a measurement system for supervising the journalism space and cyberspace; and accelerating digital transformation in society in a comprehensive manner.
During the pandemic, the industry has boosted IT applications in the workplace and promoted digital transformation in the southern provinces. It also mobilised digital tech businesses to join forces in developing apps for the fight against COVID-19 from testing, and tracing to quarantine and vaccinations.
We once expected that 2021 would be better and COVID-19 could be fully stamped out. However, things do not always happen as expected. We need to take action to create a brighter future instead of waiting.
Elsewhere, the future of the post industry is e-commerce and logistics. This market is expected to hit $70-80 billion by 2025. The recent platform for e-transaction of litchi – the famous fruit of the northern province of Bac Giang has brought about the expectation of developing such a platform of farm produce into an e-commerce platform for ViettelPost and VNPost.
AI also opens new futures for e-commerce. If accounting for only 5 per cent of the e-commerce and logistics market share, by 2025, Viettel Post and VNPost will gain $4 billion revenue.
The telecommunications market segment seemed to see no growth in recent years. However, it will be able have an additional 250 million subscribers of Internet of Things (IoT) services, and an extra 50 million subscribers on digital platforms. This is the future of the next five years.
The cloud market is estimated to be valued at $5 billion by 2025. How much percentage of the market share will telcos make up: 10 per cent, or 80 per cent? If 80 per cent, the new space for them will value $4 billion. Let's invest and market. For telecoms giants, they should not set a yearly growth target of 3-5 per cent, but 10-15 per cent instead.
In the field of information security, if businesses only focus on institutions and organisations, revenues will soon reach a limit. Each family needs information security, and incidents in cyberspace happen daily and are numerous. Businesses should think about providing protection services for 125 million smartphones and tens of millions of PCs and tablets. Their growth is not 25 per cent, but 50-60 per cent.
Digital transformation should cover the whole population in a comprehensive manner, meaning 100 million people and all sectors. This market is so big that we may find it hard to imagine the possibilities. But the more customers spend on digital transformation, the more businesses gain.
"Make in Vietnam" can refer to the IoT electronics industry, telecoms devices, medical devices, IT in industry, and all that we design and do in Vietnam. The number of 100,000 Vietnamese digital technology businesses by 2025 will be a small number. And the growth of the ICT industry will be higher than the current 15 per cent.
It is time for us to think about what we are doing and the ways we are doing it. Industry 4.0 is creating opportunities for great changes. COVID-19 is a big push for us to make faster changes towards going greener and becoming more digital.
Minister of Information and Communications Nguyen Manh Hung
Source: VIR

Vietnamese telecom operators are betting on financial activities to make gains from the new trends emerging and being pushed forward by current events.

The digital economy in Vietnam accounts for about 8.2% of GDP. The development potential of the Internet and digital economy components is still quite large.