5G service package fees to be the same as 4G
The fifth-generation mobile network is under commercial trial in Hanoi and HCM City. Vietnam is among the few countries in the world that have put 5G into trial use.
Nguyen Phong Nha, deputy director of the Telecommunications Authority, said Vietnam aims for nationwide 5G coverage by 2030. By that time, people will be able to access broadband internet at low fees.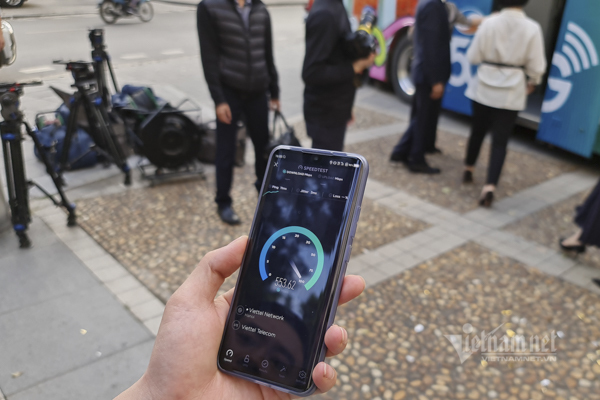 To make the plan realistic, the Ministry of Information and Communications (MIC) has built a telecommunication development strategy, setting targets for upgrading 4G infrastructure and commercializing 5G soon.
To date, three network operators, namely Viettel, MobiFone and VinaPhone, have licenses to provide 5G services on a trial basis.
A representative of the Telecommunication Authority said in addition to providing mobile network services, businesses can develop software and devices for 5G. This is a challenge but also an opportunity for Vietnam to join the terminal market.
The trial of 5G is an opportunity for network operators to build reasonable business models and anticipate costs before 5G services are officially licensed.
After the trial period, network operators will have to submit reports on the results of the trial in terms of technical features, commercial potential and market demand, so that MIC can perfect the legal basis.
Nha said the deployment of 5G in Vietnam will depend on market demand. 5G may not be covered throughout the country in the immediate time. At first, it will be available in some large cities such as Hanoi, Da Nang and HCM City.
The cities have been chosen for 5G deployment because these are areas with a high density of mobile device users and high requirements on speed.
In addition, 5G may also be deployed in industrial zones and areas where there is demand for smart factories.
MIC hopes the services will be launched in 2021.
5G commercialization
According to VinaPhone, technical experiments in Hanoi and HCM City showed that the download speed of 5G is 10 times higher than 4G, while the latency is 10 times lower.
As for MobiFone, the network operator has finished the installation and is testing 5G speed. In standard conditions, the download speed is 1.3 Gbps. The speed is expected to increase.
According to Viettel, there are about 8,000 terminal devices compatible with 5G on its entire network. However, due to the narrow coverage area, only several hundred devices have been connected with the testing network. The average speed is 500-600 Mbps.
In addition to 5G trial, Viettel is joining forces with Vingroup to develop 5G broadcasting equipment. The equipment made locally accounts for 15 percent of total transceiver equipment being tried by the network operator. 
Trong Dat

The number of 5G subscriptions in Viet Nam is forecasted to reach 6.3 million by 2025, according to a report on 5G development in Southeast Asia by the network equipment maker Cisco.  

Commercializing 5G by 2021 is a target for Vietnam to implement the national digital transformation.