40% of Covid-19 cases in Hanoi found through electronic medical declaration screening
As many as 13,579 people reporting coughing and high temperature on medical declarations turned out to be positive cases, amounting to 40 percent of total cases of the city.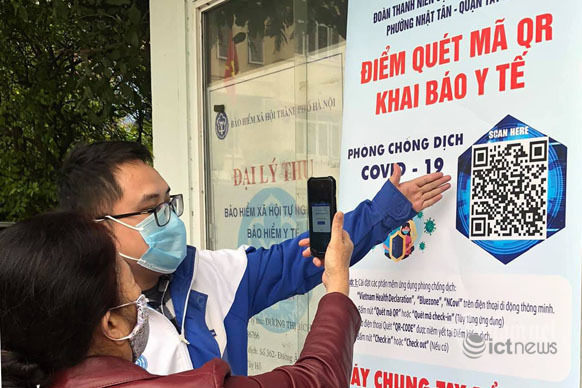 Hanoi, which imposed social distancing from 6 am July 24, detects people with symptoms of coughing and high temperatures on tech platforms such as Bluezone and tokhaiyte.vn.
In its Directive 17 dated July 23, the municipal authorities asked people to make health declarations daily on tokhaiyte.vn or NCOVI and Bluezone, and contact the local authorities and medical units when they have fever, cough, shortness of breath or loss of smell or taste.
Businesses that provide essential services and are permitted to stay open have also been asked to control all customers by asking them to scan QR Code when checking in.
Later, the city asked people to make electronic health declarations every day to help medical units discover and classify F0 cases in the community.
As of July 31, there were 2,326,921 health declarations on platforms, with 70,000 declarations each day. On July 31, there were 1,000 declarations about cough, high temperature and shortness of breath. This included 666 declarations on Bluezone, and 342 on tokhaiyte.vn.
As of mid-August, the number of health declarations via technological platforms had reached 13,600. Of this, 800 F0 and F1 (contacts of F0) cases had been found.
In early August, technological solutions helped discover 5,500 cases related to Thanh Nga Food Company in Hanoi after one hour.
According to the Hanoi Health Department, on August 16, when screening 13,579 cough and fever cases reported by people via Bluezone and tokhaiyte.vn, the city found 95 positive cases.
From these cases, the city expanded monitoring and tested related cases. As a result, it discovered 691 more cases in the community. The total number of F0 cases discovered from screening people with suspected symptoms accounted for 40 percent of total F0 cases in the fourth outbreak.
Do Lap Hien from the National Technological Center for Covid-19 Prevention and Control said the number of F0 cases in the community has been flat in recent days.
"Within one week, since the day Hanoi began officially getting data from medical declarations on the platforms managed by the center, 14,000 declaration records were provided. 95 F0s and 700 F1s were found," Hien said.
Van Anh

This is the message the Minister of Information and Communications Nguyen Manh Hung conveyed when delivering a speech at a ceremony launching Telehealth, the platform that allows medical examinations to be conducted from a distance.

The vaccination management platform is the first national technology platform shared by ministries, branches, local authorities and relevant parties to join forces to fight Covid-19.