Vietnamese Vice President attends inauguration of Indonesian leaders

Vietnamese Vice President Dang Thi Ngoc Thinh attended the inauguration of Indonesian President Joko Widodo and Vice President Ma'ruf Amin for the 2019 – 2024 tenure in Jakarta, Indonesia, on October 20.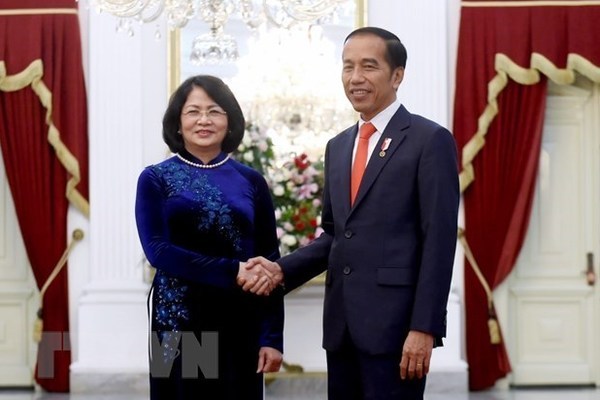 Vice President Dang Thi Ngoc Thinh (L) and Indonesian President Joko Widodo
During separate meetings with thePresident and Vice President following the ceremony, Thinh conveyed letters ofcongratulations from Party General Secretary and President Nguyen Phu Trong andPrime Minister Nguyen Xuan Phuc to Widodo, in which they expressed their beliefthat the new Indonesian government will reap great successes towards realisingthe Vision 2045 with the aim of turning the country into the world's fifthlargest economy after 100 years of independence.
The Indonesian leaderscongratulated Vietnam on its socio-economic and global integrationachievements, including its election as a non-permanent member of the UnitedNations Security Council for the 2020 – 2021 tenure and preparing to assume itsrole as ASEAN Chair 2020.
Thinh suggested both sidesfurther bolster economic ties in order to raise annual two-way trade to 10billion USD and enhance partnerships in agriculture, education – training,tourism, aviation, people-to-people exchanges, fighting illegal fishing and resolvingsettlements regarding fishing vessels and fishermen in a friendly andhumanitarian spirit.
The Vietnamese Vice Presidentalso spoke highly of Indonesia's increasingly important role in the region andthe world.
Regarding regional and globalissues of shared concern, the Vietnamese and Indonesian leaders highlighted theimportance of regional peace and stability to security and development of eachnation as well as the ASEAN Community.
The two sides agreed to workclosely together at multilateral forums, especially when Vietnam becomes ASEANChair and both countries are non-permanent members of the United NationsSecurity Council next year.
On recent developments in theEast Sea, Thinh asked Indonesia to continue supporting Vietnam's legitimate stanceand objections to violations of sovereignty and international law, especiallythe 1982 United Nations Convention on the Law of the Sea (UNCLOS), and to stepup the full and effective implementation of the Declaration on the Conduct ofParties in the East Sea (DOC) and negotiations to reach an effective andpractical Code of Conduct in the East Sea (COC) in line with international law.
The two countries' leadersexpressed their satisfaction about the strong development of the Vietnam –Indonesia strategic partnership and the deployment of the action programme for2019 – 2023. They also hailed celebrations of the 60th anniversaryof historic visits by late Presidents Sukarno and Ho Chi Minh, and preparationsfor the 65th founding anniversary of diplomatic ties next year.
On the sidelines of theinauguration ceremony, Thinh held brief meetings with Cambodian Prime MinisterHun Sen, Malaysian PM Mahathir Mohamad, Singaporean PM Lee Hsien Loong,Australian PM Scott Morrison, Chinese Vice President Wang Qisan, Myanmar VicePresident Henry Van Thio, Thai Deputy Prime Minister Wissanu Krea-ngam, LaoForeign Minister Saleumxay Kommasith, Philippine Secretary of Foreign Affairs TeodoroLopez Locsin, US Secretary of Transportation Elaine Chao, Chief of Staff of theKorean President Noh Young-min and Japanese Vice Minister for Foreign AffairsNorihiro Nakayama.
In the morning of the same day, Thinh visited the Vietnameseembassy's staff, the Vietnamese Permanent Mission to ASEAN, and overseasVietnamese in Indonesia./.VNA