Vietnamese social networks expect 90m users amid competition with Facebook

Vietnamese social networks were set to have 90 million users by the end of 2020, the communications minister said on Friday, as the Government kept pushing hard to break the foreign monopoly in Vietnam.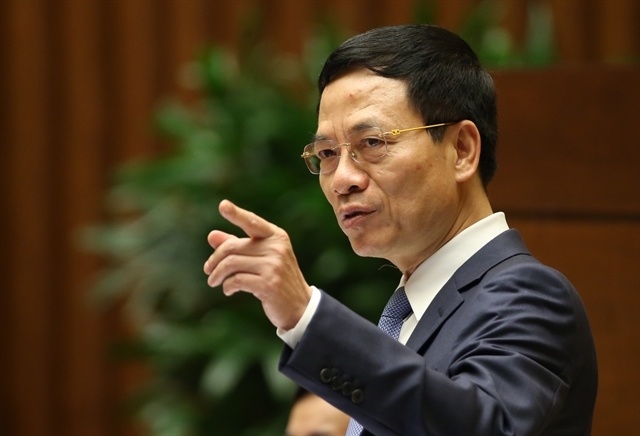 Minister of Information and Communications Nguyen Manh Hung in the National Assembly hearing on Friday morning.
Minister of Information and Communications Nguyen Manh Hung told the National Assembly (NA) that the ambitious number – given that the country's population was 96.2 million in 2019 – could be reached with "public support in preferring Vietnamese products".
Hùng took the hot seat on Friday as the NA continued into its third day of cabinet hearings with deputies bombarding the minister with questions over issues like fake news, spam phone calls and development of e-Government.
Responding to questions from HCM City deputy To Thi Bich Chau and Dong Thap deputy Nguyen Thi Mai Hoa over the development of the Vietnamese digital ecosystem including social networks, Hung said that he set up a task force to support made-in-Viet Nam social networks as soon as he took office last year. His goal was to attract as many users as those of foreign social networks in Viet Nam – most notably, Facebook.
"After one year, Vietnamese social networks have gained growth of 30 per cent with some 65 million users," the minister said.
Three new domestic social networks, namely Lotus, Gapo and Hahalolo, were introduced within months in 2019, joining in the race to attract users against other Vietnamese networks Zalo and Mocha as well as the biggest player being Facebook. The US social network has between 60 and 65 million monthly active users, according to the company.
"Now what we think, say, buy and even whom we love, all can be found on social networks. It means that the Vietnamese' brains are staying in one place and it's not in Viet Nam," Hung said.
"What will they (foreign networks) do with it? It's a very dangerous matter, a matter of national security."
The minister, however, affirmed that the Government did not set the goal of replacing foreign social networks with domestic ones.
"Viet Nam has integrated and opened for investment. But anyone in Việt Nam to do business must abide by Vietnamese law and make Viet Nam more prosperous. Foreign social networks can exist alongside domestic ones if they follow Vietnamese law," Hung told the NA. — VNS

The race among Vietnamese social networks is starting to become exciting but much needs to be done for them to develop.

Will the third internet wave bring opportunities to Vietnam's social networks that aim to gain users from Facebook?
Gapo, Lotus and Astra, the three Vietnamese social networks, have debuted within a short time. But Facebook remains the favorite social network in Vietnam.