Vietnamese PM holds series of meetings on the sidelines of COP26
On the sidelines of 26th UN Climate Change Conference of the Parties conference on November 1-3, PM Pham Minh Chinh had a series of meetings with government and state leaders, international organizations and agencies.

At the meeting with Prince Charles of the United Kingdom, Chinh proposed the UK cooperate and support Vietnam in a number of fields such as finance, technology, human resource training, and help Vietnam transform its economy towards green one.
Prince Charles said he has long lobbied financial companies to support efforts to respond to climate change for developing countries, including Vietnam. The Crown Prince also said he wanted to support the promotion of Vietnam-UK cooperation in projects of environmental protection, and biodiversity conservation.
At the meeting with Japanese Prime Minister Kishida Fumio, the Vietnamese government leader suggested the two sides open the market for agricultural products and fruits from each other.
Prime Minister Kishida Fumio affirmed that Japan always takes care of the 400,000 Vietnamese community in Japan, and that the country will receive more skilled workers from Vietnam. He also said that he will soon visit Vietnam.
At the meeting with the Director General of the International Atomic Energy Agency, Rafael Grossi, Chinh highly appreciated the good cooperation relationship between Vietnam and the agency. He thanked IAEA for providing equipment, biological products, supplies and training to transfer testing and early detection of SARS-CoV-2 virus to Vietnam.
The IAEA General Director affirmed that the agency is ready to provide technical support and advice to Vietnam in related issues./.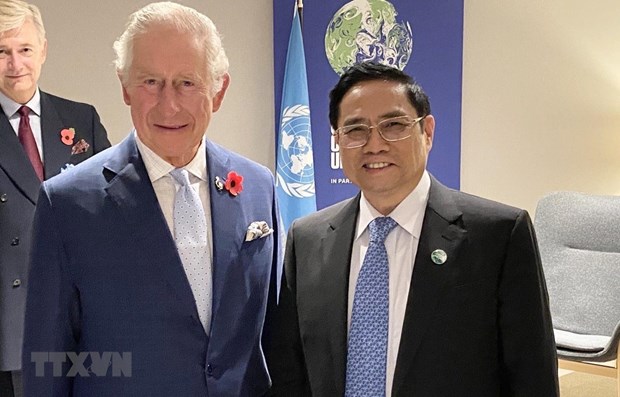 Vietnamese Prime Minister Pham Minh Chinh (right) and the UK's Crown Prince Charles. 
On November 2, the PM had meetings with Crown Prince Charles of the UK, Japanese PM Fumio Kishida, Indian PM Narendra Modi, Irish PM Micheal Martin, Kuwaiti PM Sabah Khalid Al-Hamad Al-Sabah, and US Special Presidential Envoy for Climate John Kerry. He also hosted a reception for Director General of the International Atomic Energy Agency (IAEA) Rafael Grossi.
Meeting with Crown Prince Charles, PM Chinh said Vietnam is resolved to utilize the strength of both public and private sectors to complete the goal of net-zero emissions, shift to the green, circular economy, and contribute to joint efforts to protect the earth.
He called on the UK to cooperate and support Vietnam in bringing into full play the public-private partnership, institutions, finance, technologies and personnel training, helping the country implement relevant projects and programmes to achieve the above-said target.
For his part, Crown Prince Charles appreciated and thanked PM Chinh and his entourage for their active participation in COP26, as well as Vietnam's contributions to global climate change response.
The Crown Prince noted his hope for stronger cooperation between Vietnam and the UK in environmental protection and biodiversity conservation to promote the green, circular, sustainable, low-carbon economy.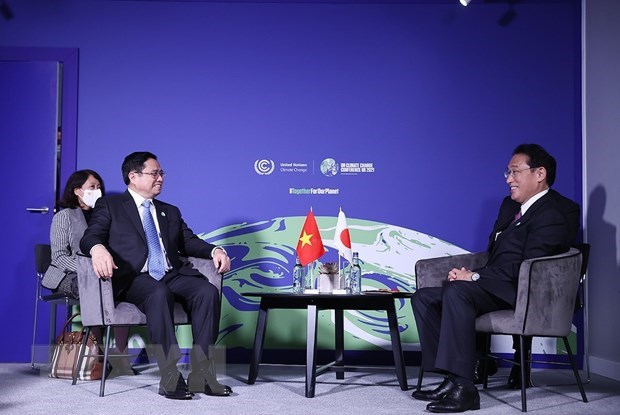 Vietnamese Prime Minister Pham Minh Chinh (left) and Japanese PM Fumio Kishida. 
During the meeting with Japanese PM Kishida, both leaders consented to foster the bilateral ties, for the sake of people of the two countries, and for regional and international prosperity.
In that spirit, they agreed to soon arrange high-level visits by Vietnamese and Japanese leaders.
They also exchanged views on many regional and international issues of shared concern, including climate change response and coordination at regional and global forums.
The two PMs stressed the significance of maintaining peace, stability, security and safety of aviation and navigation in the East Sea and the East China Sea, saying disputes should be settled via peaceful measures and dialogues and in line with international law, including the 1982 United Nations Convention on the Law of the Sea (UNCLOS).
At their meeting, PM Chinh and his Indian counterpart Modi concurred to boost all-level meetings through party, state, government, parliament and people channels.
The two sides will coordinate to organise activities marking the 50th founding anniversary of diplomatic ties next year, and work to foster people-to-people exchanges and cultural and tourism ties after the pandemic is brought under control.
Vietnam and India will also strengthen collaboration in regional and international issues, and support each other at multilateral forums and in activities such as responding to climate change, maintaining peace, stability, security, safety and freedom of navigation and overflight in accordance with international law, especially 1982 UNCLOS.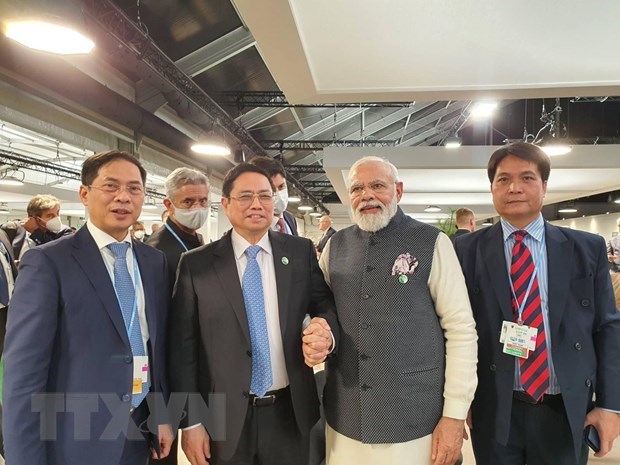 Vietnamese Prime Minister Pham Minh Chinh and Indian PM Narendra Modi agree to increase all-level meetings. 
Meanwhile, PM Chinh and Irish PM Martin held that bilateral ties are developing fruitfully, and the two countries should further their cooperation in the time ahead, including the exchange of high-level visits.
In their meeting, PM Chinh and his Kuwaiti counterpart Al-Hamad Al-Sabah agreed to beef up the comprehensive relationship between the two countries, and pay more heed to joint investment projects, particularly those in the field of oil and gas.
Receiving IAEA Director General Grossi, PM Chinh thanked the agency for its supply of equipment, bioproducts and materials and the transfer of technology of COVID-19 testing to Vietnam.
Grossi affirmed that the agency stands ready to aid Vietnam and provide technical consultancy for the country in this field.
Meeting with US Special Presidential Envoy for Climate Kerry, PM Chinh said Vietnam has joined the Glasgow Leaders' Declaration on Forests and Land Use, the Global Methane Pledge, and the international action on adaptation to climate change.
Vietnam would like to receive support from the US to complete the targets, he added.

For his part, Kerry spoke highly of PM Chinh's speech at COP26 and Vietnam's determination, saying the US backs Vietnam in its efforts to cope with climate change and promote Vietnam-US ties./.
Source: VNA