Vietnamese, Lao investment ministries enhance co-operation

The Ministries of Planning and Investment of Việt Nam and Laos signed an agreement on bilateral co-operation for the 2019-2021 period during talks between the two ministers in Vientiane on June 22.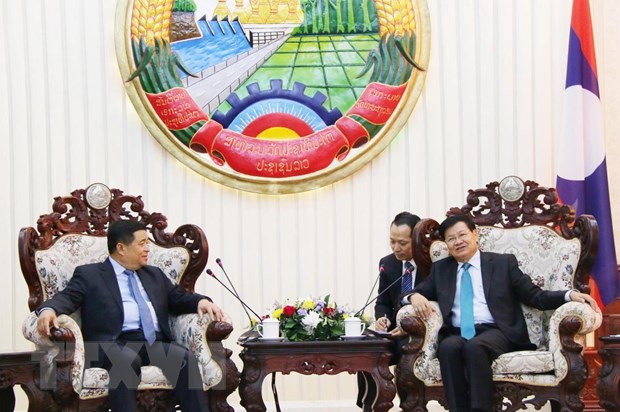 Minister, of Planning and Investment Nguyen Chi Dung meets his Lao counterpart Suphan Keomixay in Vientiane on June 22.
At the talks, Lao Minister of Planning and Investment Suphan Keomixay hailed the significance of the Vietnamese delegation's visit as it helped tighten the comprehensive co-operation and special solidarity between Laos and Việt Nam.

Both he and the Vietnamese Minister, Nguyen Chi Dung, agreed the two ministries and the cooperation committees they chair should work closely to address difficulties in investment, improve the business climate, facilitate connections between the two countries' enterprises and diversify trade activities to achieve a stable growth rate of 10-15 per cent a year.

Dung suggested both sides continue implementing memoranda of understanding on development co-operation, saying the Vietnamese ministry will boost collaboration with the Lao side in training and experience sharing.

The two sides agreed to focus on speeding up investment and assistance projects, particularly those related to transport connectivity.

On June 21, as part of the Vietnamese minister's working visit to Laos, he was hosted by Prime Minister Thongloun Sisoulith, who asked the two ministers, as the Chairs of the Việt Nam-Laos and Laos-Vietnam Cooperation Committees, to continue working with each other to boost the implementation of investment projects between the two countries.

He said Laos welcomes and will continue creating favourable conditions for Vietnamese enterprises to invest in Laos, especially in the fields of tourism and organic agriculture. – VNS