Vietnamese-German negotiations on green growth end in success

Germany and Vietnam decided to expand the co-operation in future-oriented fields such as vocational training, energy, and environment.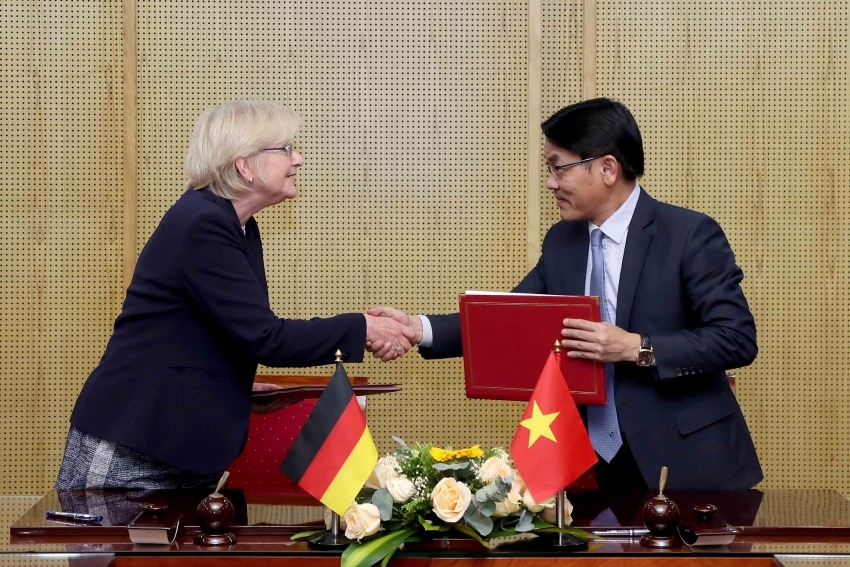 Vietnam and Germany concluded the negotiations with stronger co-operation in future-oriented sectors

With a commitment of €213.4 million ($236.1 million), the German Federal Ministry for Economic Cooperation and Development (BMZ) will support Vietnam in the next two years to create Vietnam's growth strategy that is friendly to the environment and society alike.
The partnership focuses primarily on effective energy supply, market access of renewable energy, and the protection of coastal areas by replanting mangrove areas in the Mekong Delta and implementing sustainable forest economy models in Northern and Central of Vietnam.
In addition, the two sides also agreed to support sustainable rice cultivation in the Mekong Delta within the framework of the Green Innovation Centre initiative, which will benefit small agribusinesses in the region by being connected to the value-added chain.
Besides this, the two countries also want to mobilise big Vietnamese and German businesses to provide vocational training for Vietnamese youth.
Meanwhile, the Federal Ministry for the Environment, Nature Conservation, and Nuclear Safety (BMU) pledged €30 million ($33.2 million) for projects on protecting biodiversity and climate in Vietnam under the International Climate Initiative.
Moreover, BMU also provided €11 million ($12.2 million) for a project to reduce plastic waste in the Mekong river.
The governmental talk took place in an important moment when the Vietnamese government is defining the goals of its 10-year socio-economic development strategy.
At the same time, the German Government is also comprehensively reforming development co-operation strategies to better contribute to the implementation of international agenda, particularly the 2030 Agenda and climate protection goals of the Paris Agreement.

The Vietnam-Germany Innovation Network (VGI) was officially launched at a ceremony at the Humboldt University of Berlin, Germany on September 14.  

Vietnam and Germany set up diplomatic relations on September 23, 1975. The ties were elevated to a strategic partnership in October 2011. Germany has become Vietnam's top trade partner in the EU.