Vietnamese, French PMs hold talks, discussing measures to boost bilateral ties
Prime Minister Pham Minh Chinh held talks with his French counterpart Jean Castex in Paris on November 3 evening (local time), during which he stressed the importance of the relations with France in Vietnam's foreign policy.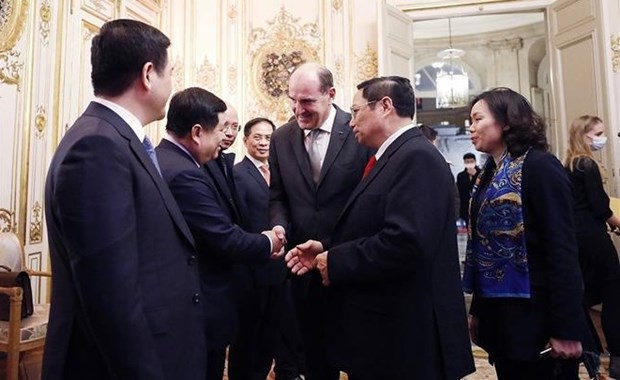 Prime Minister Pham Minh Chinh (second from right) introduces members of the Vietnamese delegation to French PM Jean Castex (C).
The two leaders informed each other about the situation of each country, and appreciated mutual assistance activities between the two countries over the past time.
Castex said France will provide Vietnam with an additional 970,000 doses of COVID-19 vaccine through the COVAX Facility and 400,000 doses through a bilateral channel, bringing the total number of vaccines supported to Vietnam so far to more than 2 million doses.
Chinh thanked the French Government for helping Vietnam in the fight against COVID-19 and hoped that France will continue sharing experience and assisting Vietnam in training medical personnel, transferring vaccine production technology and adapting to the post-pandemic context.
The two Prime Ministers discussed orientations as well as measures to enhance cooperation in the coming time to achieve more practical results.
They agreed to jointly develop a master plan to create strong changes to serve as a basis to bring the bilateral relationship to a new height. They stressed the importance of enhancing the exchange of high-level delegations, improving the effectiveness of dialogue mechanisms, expanding cooperation in all fields, strengthening close coordination in regional and international issues, actively supporting each other at multilateral forums, and increasing the frequency of flights linking the two countries. They also welcomed the organisation of the 12th Vietnam-France decentralised cooperation conference in Hanoi in 2022.
The two leaders agreed to implement practical measures to create more favourable conditions for bilateral trade exchanges, and support the two countries' businesses and goods to approach each other's market. They proposed measures to promote cooperation projects in key fields, build long-term industrial partnerships on the basis of high technology transfer and mutual benefit, especially in the fields that France has strengths and Vietnam has demand.
The French PM asked Vietnam to create favourable conditions for French businesses to invest in and implement cooperation projects in Vietnam, strengthen defence-security cooperation, and promote relations between National Assembly agencies, promote collaboration in research, science and technology, and continue facilitate operations of the French Institute in Vietnam.
Chinh acknowledged France's proposals, affirming that Vietnam wishes for effective support and cooperation from France. He thanked France for maintaining its commitment to official development assistance as well as preferential financial sources for Vietnam. He suggested France maintain and further promote the implementation of health projects, and intensify bilateral cooperation in education – training. He said he hopes that France will create more favourable conditions for students to exchange, study and research in France, and increase the number of scholarships.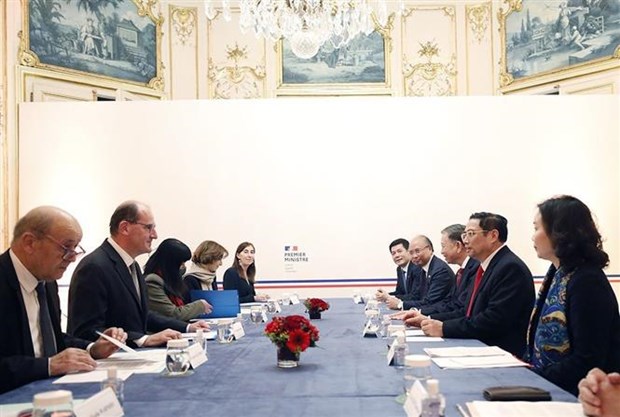 Talks between Prime Minister Pham Minh Chinh and Prime Minister Jean Castex (Photo: VNA)
The two Prime Ministers also exchanged views on international and regional issues of mutual concern, including the East Sea issue, stressing the need for countries to contribute to maintaining peace, stability and prosperity, and ensuring safety, freedom of navigation and aviation and peaceful settlement of international disputes on the basis of international law, especially the United Nations Convention on the Law of the Sea 1982 (UNCLOS).
Castex spoke highly of Vietnam's successfully assuming its role as a non-permanent member of the United Nations Security Council and once again thanked Vietnam for supporting France to become ASEAN's development partner.
Meanwhile, Chinh thanked France for its support and coordination at multilateral forums and for making efforts to urge the European Commission (EC) to soon remove its "yellow card" warning against Vietnamese fisheries.
The two sides agreed to actively implement the EU-Vietnam Free Trade Agreement (EVFTA), accelerate the ratification of the EU-Vietnam Investment Protection Agreement (EVIPA), in order to create momentum for trade and investment between Vietnam, France and the EU.
Prime Minister Chinh also shared the outcomes of the high-level Vietnamese delegation's attendance at the 26th United Nations Climate Change Conference of the Parties (COP26) that just took place in the UK, and announced that Vietnam has committed to building and implementing policies and measures to promote international cooperation, and hopes that developed countries, including France, will continue to support Vietnam in this field.
PM Castex appreciated contributions of the Vietnamese community in France.
PM Chinh invited the French PM to visit Vietnam and conveyed the invitation from President Nguyen Xuan Phuc to President Emmanuel Macron to visit the Southeast Asian country.
After the talks, the two PMs witnessed the signing of several documents, cooperation agreements and economic contracts between the two sides.
Source: VNA