Vietnam reaffirms support for non-proliferation of nuclear weapons
Vietnam consistently supports disarmament and the non-proliferation of weapons of mass destruction, including nuclear weapons, Ambassador Pham Hai Anh, Chargé d'Affaires of the Vietnamese mission to the United Nations (UN), has said.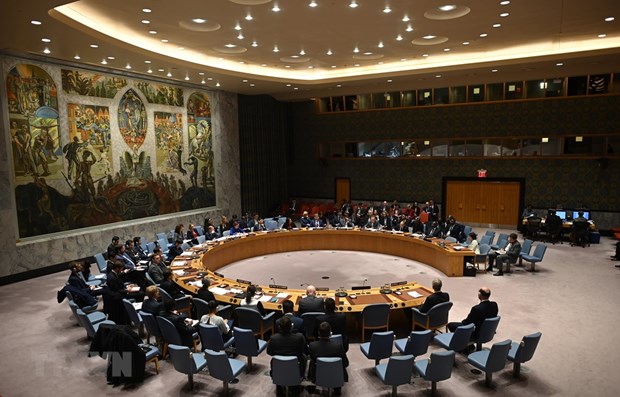 A meeting of the UNSC in New York (Photo: VNA)
The Vietnamese diplomat made the affirmation at a meeting of the UN Security Council (UNSC) on December 22 reviewing the implementation of the UNSC's Resolution No 2231, which endorsed the 2015 Joint Comprehensive Plan of Action (JCPOA) on Iran's nuclear programme.
He stated that Vietnam supports Resolution No 2231 and the JCPOA, while calling on stakeholders to refrain from actions that undermine trust and escalate tensions and to promote dialogue and negotiations to resolve differences.
The ambassador stressed the importance of continuing to seriously and fully implement these resolutions and agreements.
Vietnam is willing to work with members of the UNSC to create the environment for dialogue and cooperation inside and outside of the council, for peace, stability, and development in the Middle East, he said.
Reports presented to the meeting stated that the JCPOA and Resolution No 2231 are important achievements in multilateral diplomacy, and the non-proliferation effort is the best way to promote a long-term, comprehensive, and appropriate solution to the nuclear problem in Iran, contributing to peace and security in the region and the globe.
The speakers welcomed the continued commitment of JCPOA-participating countries to uphold and protect the agreement.
Complying with and fully implementing Resolution No 2231 and the JCPOA is the best way to resolve differences between the parties on the nuclear issue in Iran and ensure regional stability, they said.
UNSC member countries affirmed the importance of Resolution No 2231 and the JCPOA in dealing with the nuclear issue in Iran and the obligations of the parties to fully implement resolutions and agreements.
They also called for the curbing of actions that increase regional tensions and promoting respect for international law and dialogue to seek peaceful solutions to the non-proliferation of weapons in the region./. VNA