Vietnam promotes defence cooperation with Philippines, Singapore
Defence Minister Sen. Lieut. Gen Phan Van Giang on June 2 hosted separately receptions for Ambassador of the Philippines to Vietnam Meynardo Los Banos Montealegre, and Singaporean Ambassador to Vietnam Jaya Ratnam.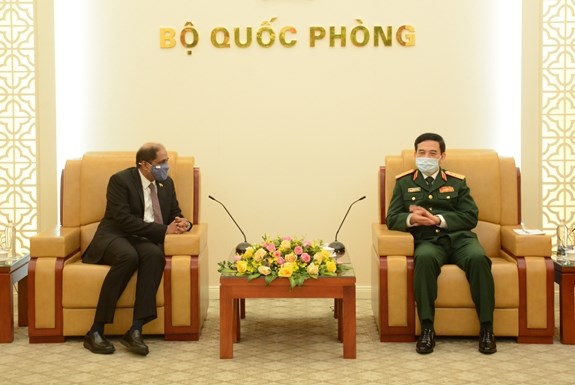 Defence Minister Sen. Lieut. Gen Phan Van Giang  (R) and Singaporean Ambassador to Vietnam Jaya Ratnam (Photo:  qdnd.vn)
The Vietnamese minister congratulated the two ambassadors on their appointment, and thanked the two countries for their support for Vietnam during the year Vietnam served as Chair of ASEAN in 2020.
Giang expressed his belief that the diplomats will fulfill their important task, contributing to further promoting the Vietnam – Philippines and Vietnam – Singapore strategic partnerships.
Minister Giang and Philippine Ambassador Montealegres highly valued the implementation of the defence cooperation agreement between their defence ministries, saying that the bilateral defence relations have been deepened with practical results in many fields such as delegation exchange, dialogue, consultation, training and cooperation within the multilateral framework.
Amid complicated developments of the COVID-19 pandemic, the two sides agreed to organise suitable activities in the virtual form, especially the Defence Policy Dialogue, the joint working group on defence cooperation, bilateral navy and air defence consultations, cooperation in COVID-19 prevention, and support and settlement of issues related to fishermen in a humanitarian spirit.
Meanwhile, Giang and the Singaporean Ambassador agreed that on the basis of results from the implementation of the agreement on bilateral defence cooperation, the two sides will promote the organization of a number of virtual meetings, including the deputy ministerial-level defence policy dialogue, meetings of joint working groups on bilateral defence cooperation and naval cooperation, security dialogues, and cooperation activities in responding to COVID-19.
The two sides pledged to continue to complete procedures and sign an agreement on bilateral defence cooperation between the two governments in 2021 to replace the 2009 document, thus contributing to strengthening intra-ASEAN solidarity and improving ASEAN's position in the region and the world.
Vietnam, China foster defence ties
The Vietnamese Government and Defence Ministry have always attached importance to the comprehensive strategic cooperative partnership between Vietnam and China, considering this a premise to strengthen the bilateral defence ties.
The statement was made by Deputy Minister of Defence Sen. Lieut. Gen. Hoang Xuan Chien at a reception for China's outgoing defence attaché to Vietnam Colonel Luo Bin, and newly-appointed one Colonel Pan Tao.
Chien said over the past more than seven decades, the bilateral defence cooperation has developed continuously, particularly after the two defence ministries signed a protocol on defence collaboration.
Cooperation activities have been made routine, with increasingly diverse forms and more pragmatic outcomes, he continued.
According to the officer, the two sides have maintained the exchange of high-ranking delegations, as well as cooperation mechanisms between naval forces, coast guards and institutes, and in military medicine in a flexible manner.
Land border cooperation has also been implemented fruitfully, contributing to building a border area of peace, stability and development, Chien said./.
VNA

Minister of National Defence Senior Lieutenant General Phan Van Giang received ambassadors of Laos, Cambodia, China and Russia in Hanoi on April 14.