Vietnam fulfills role as AIPA Chair: top legislator
Vietnam has well fulfilled its role as Chair of the ASEAN Inter-Parliamentary Assembly (AIPA) in 2020 despite serious impacts of the COVID-19 pandemic and record floods and storms, 
thus contributing to increasing the country's position and prestige in the region and the world, National Assembly Chairwoman Nguyen Thi Kim Ngan has said.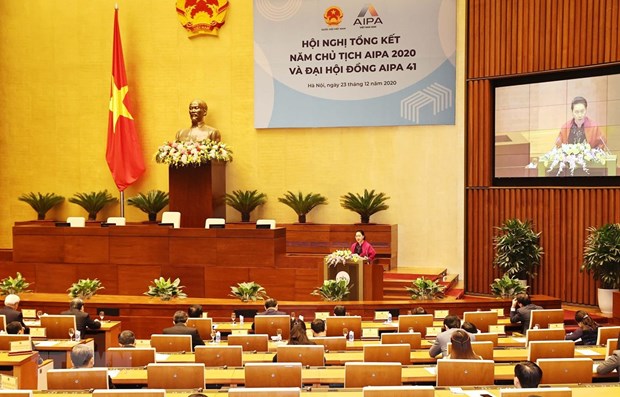 National Assembly Chairwoman Nguyen Thi Kim Ngan speaks at the conference 
Addressing a conference on December 23 to review Vietnam's AIPA Chairmanship Year, Ngan stated that right from the beginning of this year when the COVID-19 shows signs of spreading out, Vietnam proactively made scenarios for the AIPA Chairmanship Year and consulted member states about organizing activities in an online format.
Accordingly, the 41st AIPA General Assembly was held online – the first time in the history of AIPA.
With the leadership and regulation of Vietnam, the AIPA-41 was claimed a success, reflected through the full participation and support of member parliaments, observers and international parliamentary organisations.
Of note, at the AIPA-41, the AIPA Committee on Political Matters could convene its meeting, after none was held in the three previous General Assemblies. This was an important result, Ngan said.
She added that during this General Assembly, Vietnam initiated the organisation of the AIPA Young Parliamentarians' Meeting and a conference on "Parliamentary Partnership on Educational and Cultural Cooperation for Sustainable Development", which were supported by all member parliaments.
The contents of the AIPA Chairmanship Year 2020 and the AIPA-41 have helped the organisation define a strategic vision for the next 5-10 years, affirming the role of parliamentary diplomacy in the region and the world, contributing to developing the ASEAN Community, Ngan affirmed.
She stressed that over the past 25 years, the Vietnamese National Assembly has made important contributions to the AIPA, and the success of the ASEAN Chairmanship Year as well as the AIPA-41 is another contribution of Vietnam to AIPA's development.
The top legislator also lauded the support, solidarity, friendship, cooperation and confidence of international friends for Vietnam.
The organisation of events, especially the AIPA-41, via videoconference is unprecedented in AIPA's 43-year history, but Vietnam has received close collaboration and strong backing from member parliaments as well as observers and the AIPA Secretariat and General Secretary.
She took the occasion to thank collectives and individuals for making the AIPA Chairmanship Year and AIPA-41 a success./.VNA