China pledges to donate an additional 3 million doses of vaccines to Vietnam
Politburo member and Standing Deputy Prime Minister Pham Binh Minh and Chinese State Councilor and Foreign Minister Wang Yi on September 10 co-chaired the 13th meeting of the the Steering Committee for Vietnam–China Bilateral Cooperation.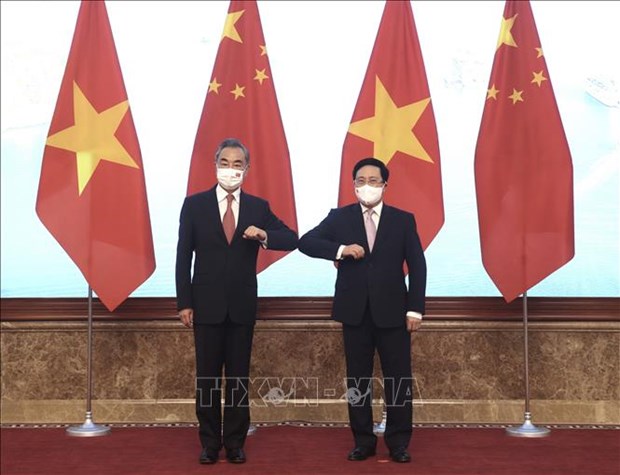 Politburo member and Standing Deputy Prime Minister Pham Binh Minh (R) and Chinese State Councilor and Foreign Minister Wang Yi.
China pledged to donate an additional 3 million doses of vaccines for Việt Nam, bringing the total number of doses promised to 5.7 million.
The information was announced at a meeting of the 13th Steering Committee for Việt Nam-China Bilateral Cooperation held in Hà Nội on Friday.
The two sides congratulated each other on their recent important events including Việt Nam's 13th National Party Congress and China's 100th Anniversary of the Chinese Communist Party.
They noted that the two countries have maintained close contact and exchanges through many forms, strengthened cooperation among ministries, agencies and localities as well as supported each other in the fight against COVID-19.
The two delegates also agreed that encouraging progress has been made in many areas of cooperation.
China is the biggest trade partner of Việt Nam. In 2020, Việt Nam was the fourth biggest trade partner of China.
At the meeting, the two sides also discussed a number of issues including trade imbalance, trade activities, especially Việt Nam's import and export being congested at border gates and slow progress of some economic cooperation and non-refundable aid projects.
Vietnamese Deputy PM Minh asked the two countries to strengthen cooperation and effectively use existing mechanisms as well as maintain regular exchanges.
The two countries agreed to strengthen high level visits as well as enhance relations, implement cooperation mechanisms and cooperation in defence, security and law enforcement areas while exchanging experience and cooperating on the fight against the COVID-19 pandemic, including vaccine cooperation.
Chinese minister Yi said China will donate an additional three million doses of vaccine for Việt Nam and some localities in China will also donate vaccines and medical equipment.
The Deputy PM expressed his appreciation and said he highly valued the support of China.
The two sides agreed to resume commercial flights when conditions permit in order to facilitate travelling and goods transporting and to implement effective measures to push economic and trade cooperation in a sustainable, stable and balanced manner while finalising procedures to open the market for some agricultural produce of Việt Nam.
Việt Nam and China will also upgrade or open new border gates to increase trade.
Việt Nam encouraged Chinese enterprises to step up investment using advanced and environmentally-friendly technology while proactively coordinating and resolving issues and limitations in some cooperation projects including the Cát Linh-Hà Đông Urban Railway project and accelerating the implementation of non-refundable aid from China.
Discussing the border and territorial issues in an open and frank manner, the two sides agreed to cooperate to manage well the land border on the basis of strict compliance with agreements and legal documents on the border.
Regarding the issue at sea, the two countries agreed to continue to control disagreements and not take any action to complicate the situation and expand disputes. The two countries agreed to maintain peace and stability in the East Sea (internationally known as South China Sea).
Việt Nam and China will promote negotiation and cooperation mechanisms to achieve substantive progress, including cooperation in less sensitive areas, on the delimitation of the sea area beyond the mouth of the Gulf of Tonkin  as well as speeding up completion to sign a new agreement on fishery cooperation in the Gulf of Tonkin.
Deputy PM Minh emphasised the importance of respecting each other's legitimate rights and interests, in accordance with international law, including the 1982 United Nations Convention on the Law of the Sea.
At the meeting, the two sides also signed the economic and technical cooperation agreement on the provision of non-refundable aid between Việt Nam and China, and a Memorandum of Understanding between the Ministry of Industry and Trade of Việt Nam and China on the establishment of the Việt Nam - China Trade Facilitation Cooperation Group. 
Source: VNS