US Ambassador extends Tet greetings in "Rap Viet" style
US Ambassador to Vietnam Daniel Kritenbrink extended Tet (Lunar New Year) greetings to Vietnamese people in a creative and also trendy way this year, a rap song, 
which hit more than 13,000 likes and 1,800 shares on Facebook within just 18 hours.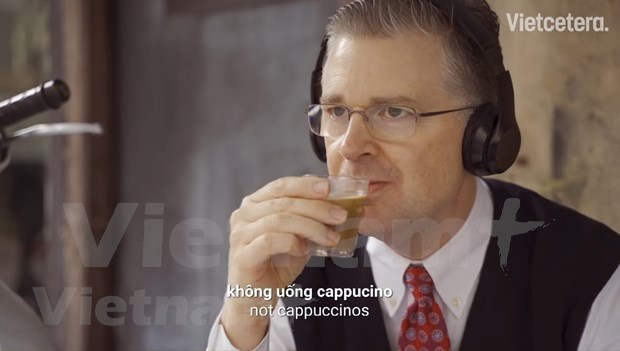 US Ambassador Daniel Kritenbrink shows his love for "ca phe sua da," Vietnamese-style coffee in the music video. (Screenphoto)
In a music video released on its official Facebook page on late February 8, the US Embassy in Hanoi said "with all his affection for Vietnam, together with enthusiastic guidance from the amazing coach Wowy, #AmbassadorKritenbrink's Lunar New Year musical masterpiece gained the praise of one of Vietnam's top rap artist - Binz Da Poet, who called the Ambassador's rap, "Amazing, Good Job!"
The three-minute video starts off with Kritenbrink showing his enthusiasm for Rap Viet, one of the most popular reality shows in Vietnam last year, and then meeting with one of the TV show's coaches, rapper Wowy.
"I'm Dan. I'm from Nebraska. I'm not a big city boy," raps Kritenbrink while he walks the main streets in Hanoi and Ho Chi Minh City with Wowy. "Then three years ago I moved to Hanoi."
"Check the calendar, Tet is coming soon. Can Tho and Da Nang are in the mood," he continues.
The lyric is a mixture of English and Vietnamese as the ambassador sings "Xuan xuan oi, xuan da ve!" (Spring! Spring is finally here), calling Vietnamese to "clean the house now, friends are on the way" and "get ready to party from Ha Giang to Ca Mau."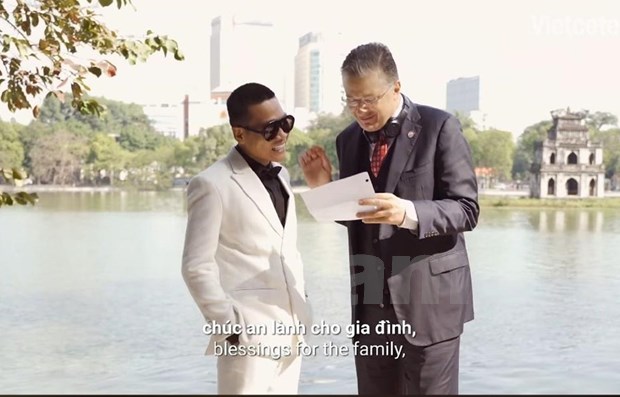 US Ambassador Daniel Kritenbrink sings the rap song with the help of coach Wowy in popular tourist attractions in Hanoi and Ho Chi Minh City, such as Hoan Kiem Lake, the Hanoi Opera House, and HCM City Post Office. (Screenphoto)
"Tet in Vietnam is the tops," the lyric says.
Kritenbrink also shows his love for hotpots and "ca phe sua da" (iced coffee with condensed milk) and promises to bring "li xi" (lucky money) with him everywhere he goes.
He wishes everybody a peaceful New Year, singing "Our friendship endures, US and Vietnam, from now to forever. We're trusted partners, prospering together!"
Daniel Kritenbrink has taken over his mission as the US Ambassador to Vietnam since October 2017./. VNA

Representatives of the embassies of Canada, New Zealand, Norway and Switzerland in Vietnam paid a visit to the headquarters of the Vietnamese peacekeeping force before the Lunar New Year (Tet).