Two Vietnamese warships to compete at Int'l Army Games for first time
Vietnam will send two warships 015-Tran Hung Dao and 016-Quang Trung to compete at the 2021 International Army Games held by Russia this August, according to the Vietnam Navy newspaper.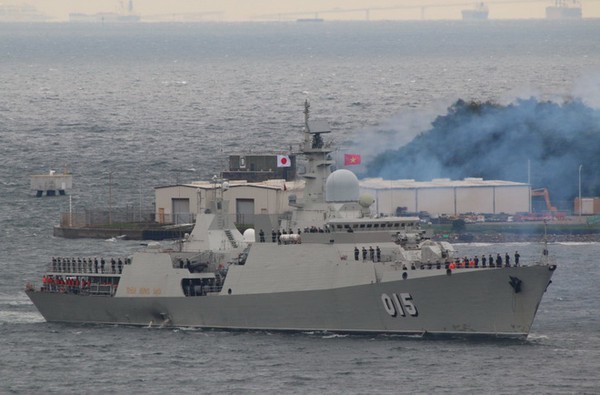 The 015-Tran Hung Dao vessel.
The two missile defense vessels of Vietnam will compete in the "Sea Cup" with four categories, including Marine skills, fighting against sinking at the onshore training facility, usage of salvage vehicles, and artillery fire tests.
015 Tran Hung Dao and 016 Quang Trung are two missile defense vessels built by Russia under Project 11661E "Gepard". They have been employed by Brigade 162 of the Vietnam People's Navy since February 2018.
The ship is equipped with many modern weapons manufactured by Russia under a contract signed with the Vietnam Navy, in order to build up a regular naval force, and improve the capacity to protect the sea and islands of the country.
The Vietnamese Gepard-class defense vessels are stealthy, able to track, search and destroy surface ships and submarines. At the same time, they can perform missions of air defense, escorts, and patrol to protect the territorial sea and exclusive economic zone independently or operate in teams.
Army Games 2021 is expected to take place from August 22 to September 4 with 34 categories, which will be held in many different countries. Vietnam will host rescue and sniper competitions.
During the 2020 International Army Games, Vietnam's tank team triumphed at the final race of tank crews of the second division in the Tank Biathlon event.
The International Army Games is an annual military sports event organized by the Ministry of Defense of Russia. The event, which was first staged in August 2015, involves close to 30 countries taking part in dozens of competitions over two weeks to prove which is the most skilled.
Tran Thuong

Vietnam will host rescue and sniper competitions within the 2021 International Army Games.