Royal Canadian Navy's ships visit Vietnam

The Royal Canadian Navy's multi-role patrol frigate HMCS Regina and supply ship MV Asterix arrived at Cam Ranh port in the central province of Khanh Hoa on June 10, beginning a four-day visit to Vietnam.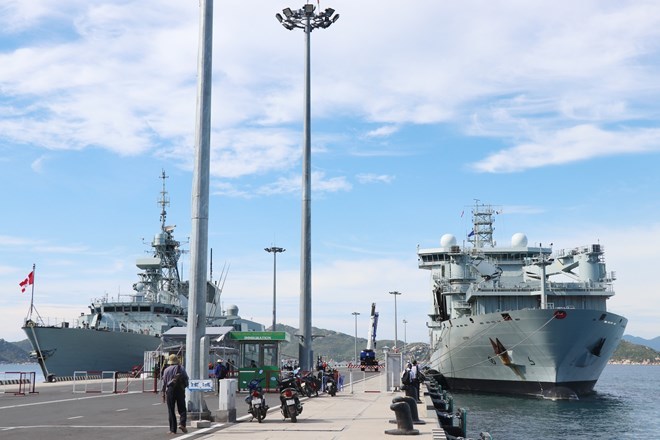 Royal Canadian Navy's HMCS Regina (L) and MV Asterix are docked at Cam Ranh port
Talking to reporters after a welcome ceremony, Commander Jacob French, Commanding Officer of HMCS Regina, said Vietnam is a valuable partner of Canada in Southeast Asia.
He said the current visit is a chance for his crewmembers to interact with the local community and for Canada to prove its partnership commitment to Vietnam.
As scheduled, while in Khanh Hoa, Canadian officers will pay a courtesy call to leaders of the provincial People's Committee and join a sport exchange with their peers at the Naval Region 4 High Command. They will also tour a number of scenic and historical destinations in the province.
Commanders and sailors of the two vessels will meet students of the Khanh Hoa University and visited the provincial social protection centre and a child care facility in Cam Ranh city.
HMCS Regina is 134 m long and has a maximum speed of 29 nautical miles per hour. It is joining the Royal Canadian Navy's exchange programme with its partners in Asia-Pacific. The frigate's ongoing visit to Khanh Hoa aims at expanding and strengthening Vietnam – Canada defence ties.
Meanwhile, the MV Asterix, which was converted from a commercial container ship, is 198 metres in length with a maximum speed of 20 nautical miles per hour. It is capable of carrying about 10 million litres of oil fuel. -VNA

Forbin, an anti-air frigate of the French Naval Force led by Col. Thomas Frioli, docked at Sai Gon-Hiep Phuoc port on May 28, beginning a friendship visit to Ho Chi Minh City which will last until June 3.  

Vietnamese escort warship 016-Quang Trung on May 8 set sail from Cam Ranh port for Singapore to join military exercises as part of the ASEAN Defence Ministers' Meeting Plus (ADMM+), and attend the Asia Pacific's Flagship Maritime Defence Show 2019.

The Coast Guard Zone 3 has for many years fought criminals in the country's East and Southeast sea, especially drug and fuel smugglers.