Recommendations of young provincial Party Secretaries to 13th National Party Congress
Making presentations at the 13th National Party Congress, Secretaries of provincial Party Committees who were born in the 1970s proposed many solutions to develop their localities and the country in general in the coming time.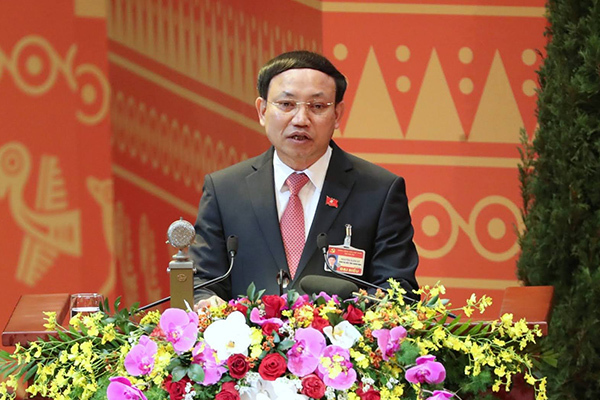 Party Secretary of Quang Ninh Province Nguyen Xuan Ky
Party Secretary of Quang Ninh Province Nguyen Xuan Ky proposed strengthening decentralization between the Government and ministries and agencies; and between the Government, ministries, agencies and local authorities associated with binding responsibilities, enhancing inspection, supervision and control of power.
He also suggested piloting the application of a number of specific mechanisms and policies to increase autonomy in budget management, investment and development, and mechanisms for mobilizing financial resources for development investment for some key localities.
Faced with high requirements for the Party's inspection and supervision during the 13th term, Party Secretary of Da Nang City Nguyen Van Quang suggested that the Party Central Committee and the Politburo of the 13th tenure to more strongly and drastically direct the inspection, supervision and discipline of the party from the central to grassroots level.
At the same time, it is necessary to continue to improve and concretize documents on inspection and supervision to meet practical requirements, with close coordination between party agencies and authorities to ensure timely uniformity in regulations and implementation guidelines.
The Party Chief of Da Nang also proposed summarizing and drawing up lessons from the mistakes and shortcomings of the party organizations and party members through the inspection and supervision process. The Central Party Committee should have a mechanism to help localities deal with difficulties in overcoming consequences of mistakes and shortcomings in the state management in recent years.
He also proposed that the Central Party Committee implement early mechanisms to encourage and protect cadres who have innovative thinking, who dare to think, dare to do, dare to make breakthrough, and dare to take responsibility for the common good, as a basis for inspection, supervision, and discipline of the party to be facilitated.
Ben Tre Province's Party Secretary Phan Van Mai expected that ministries and central agencies will complete the regional planning and put it into implementation, creating mechanisms and policies for the Mekong Delta to develop sustainably, to adapt to climate change, and to become one of the dynamic, highly efficient economic centers, commensurate with the region's potential and geostrategic position.
Mai also suggested that the National Assembly, the Government, ministries and central agencies develop mechanisms and policies to attract investment in developing comprehensive infrastructure for the Mekong Delta. In particular, an investment mechanism to develop a coastal driving force corridor connecting Ho Chi Minh City and these provinces.
Shifting from "Agricultural production thinking" to "Agricultural economic thinking"
Party Secretary of Dong Thap Province Le Quoc Phong made recommendations in order to effectively implement the transition from "Thinking of agricultural production" to "Thinking of an agricultural economy" to adapt to climate change and market trends.
The youngest provincial Party Chief said that it is necessary to study and consider separation of the regulations on the development of agricultural cooperatives into a separate Law or Decree of the Government; and at the same time, support the development of the model "High-tech agricultural business incubator".
Mr. Phong also proposed paying attention to organizing and building a complete database of information on the agricultural sector, information on investment activities as well as the needs of the domestic and foreign market for each agricultural product in order to assess, forecast the movement of the market, and make appropriate recommendations.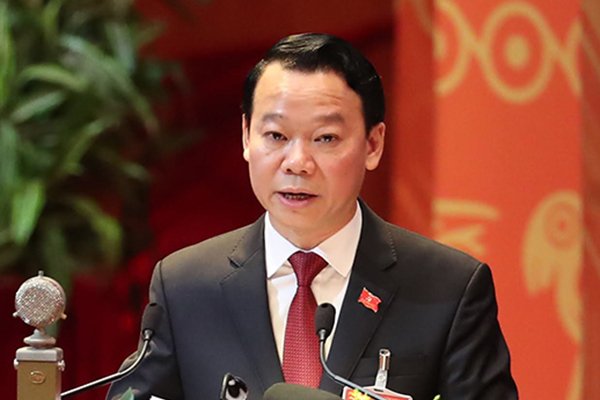 Party Secretary of Yen Bai Province Do Duc Duy
The Party Secretary of Dong Thap also suggested that scientific research is needed to quickly have optimal solutions and timely investment in climate change adaptation and the decline in quantity and quality of fresh water sources for domestic and production activities, especially the reduction of the Mekong River flow and salt water intrusion in the Mekong Delta.
Party Secretary of Can Tho Le Quang Manh proposed focusing on synchronously completing the development and application of science and technology. Institutions for the development and application of science-technology should be urgently perfected in the direction of effective support for competition between research organizations and enterprises applying science and technology and from there focus on promoting organizations and businesses that can commercialize knowledge in the best way.
Party Secretary of Bac Giang Province Duong Van Thai was interested in promoting the application of science and technology, and the achievements of the industrial revolution 4.0 in production to create a breakthrough development.
Towards building a modern agriculture to meet development requirements, he proposed considering and amending the Land Law in the direction of accumulating and concentrating land on a large scale to suit the current agricultural commodity development; and to intensify trade negotiations to expand export markets for agricultural products.
Party Secretary of Yen Bai Province Do Duc Duy asked the Party Central Committee to pay attention to and invest in mountainous provinces, particularly prioritizing investment in transportation and grid systems.
Duy said that in order to achieve the goal of sustainable poverty reduction and protection of forest resources and watershed ecological environment, the Party Central Committee should study and have specific policies to support localities in management, development and protection of watershed forests, water resources protection and socio-economic development.
Thu Hang - Tran Thuong

Ensuring social progress, equality, welfare, and building a Vietnamese citizenry with characteristics meeting requirements of the new era are the tasks set for the Ministries of Labour, Invalids and Social Affairs, and Culture, Sports and Tourism.