RCEP expected to be signed in Vietnam this year

Countries involved in the Regional Comprehensive Economic Partnership (RCEP) have begun a legal review aimed at signing the trade pact this year in Vietnam, said Deputy PM and Foreign Minister Pham Binh Minh.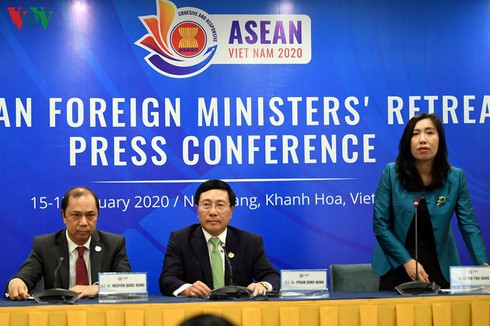 At the press conference
At a press conference held in Nha Trang city on January 17 to unveil the outcomes of the ASEAN Foreign Ministers' Meeting, In response to questions by reporters regarding the possibility of signing the RCEP in 2020 – Vietnam's ASEAN Chairmanship Year, Foreign Minister Binh Minh noted that during a meeting held on the sidelines of the 35th ASEAN summit in Bangkok last year, RCEP countries issued a joint statement.
Under the joint statement, 15 out of the 16 RCEP signatories have text-based negotiations of all 20 chapters and agreed on the essential issues such as market access while they have also begun a legal review to finalize the the megal deal in 2020 in Vietnam.
At present, all participating countries are conducting discussions on the issue. If the RCEP is signed with all 16 countries, the trade deal will serve to bring economic and trade benefits to all RCEP member states.
Deputy PM Binh Minh emphasised that during the process of conducting RCEP negotiations, Vietnam has always been active in co-operating with other countries and attempting to move towards a comprehensive and high-quality agreement that can ensure bespoke benefits for each of the participating nations.
First launched in 2012, the RCEP includes the 10 ASEAN members, in addition to China, the Republic of Korea, Japan, Australia, and New Zealand.

Once signed, the deal will create the globe's largest free trade area, containing approximately 3.5 billion people and making up roughly 30 per cent of the world's GDP. VOV