President Nguyen Xuan Phuc wraps off official visit to Switzerland, heading to Russia
President Nguyen Xuan Phuc and his entourage left Geneva on November 29, concluding a five-day official visit to Switzerland at the invitation of Swiss President Guy Parmelin.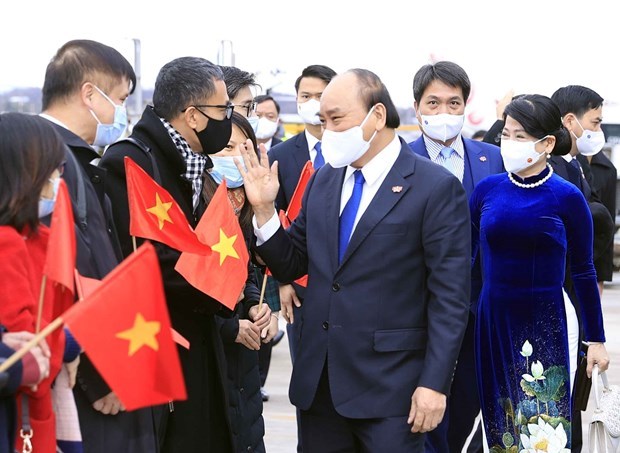 State President Nguyen Xuan Phuc and his entourage leave Geneva on November 29, concluding their official visit to the Swiss Federation. 
The success of the visit strongly conveyed a message on Vietnam's desire to promote multifaceted and practical relations with Switzerland through new cooperation orientations, and potentials in economy, trade and investment. The trip affirmed Vietnam's policy of attaching importance to cooperation with the UN as well as specialised UN organisations based in Switzerland; as well as of mobilising support for Vietnam's efforts for COVID-19 prevention and control, recovery and socio-economic development in the coming time via innovation, creativity and implementation of sustainable development goals.
On November 26 (local time), the Swiss President hosted an official welcome ceremony for his Vietnamese counterpart in Bern city.
The two leaders held talks following the ceremony. In the spirit of building, trust and mutual understanding, both presidents agreed to further strengthen cooperation in the fields of science, technology, education and training, towards establishing the framework of partnership on innovation.
Parmelin assessed Vietnam as an effective ODA using partner, adding that the Swiss Government has decided to continue to provide Vietnam with 70 million CHF (over 75.6 million USD) worth of ODA in the 2021-2024 period, focusing on the fields of environmental protection and economic reform.
At a joint press conference after their talks, President Parmelin described President Phuc's official visit as a new development milestone in Switzerland-Vietnam relations. He affirmed that Vietnam is a priority nation in Switzerland's economic cooperation policy and that the goal of a support programme of the Swiss ministry of economy is to help Vietnam's economy develop more inclusively and sustainably.
He also said that the signing of a free trade agreement (FTA) between Vietnam and the European Free Trade Association (EFTA), of which Switzerland is a member, will certainly be effective in the future.
Meanwhile, at a meeting with President Phuc, President of the Swiss National Council Andreas Aebi supported increasing the nations' economic collaboration, particularly soon concluding the FTA between Vietnam and the EFTA, and expressed his willingness to cooperate with Vietnam in innovation.
President Phuc and President Parmelin also co-chaired a Vietnam - Switzerland Business Forum in Bern, with the participation of representatives from over 100 businesses of the two countries.
Also in Bern, President Phuc met with Mayor of Bern Alec Von Graffenried and received former Swiss President Schneider Ammann, and Honorary Consul of Vietnam in Switzerland Philipp Roesler, who is former Deputy Prime Minister, former Minister of Economy and Science and Technology of Germany, as well as leaders of local businesses.
In Geneva, President Phuc met Director General of the UN Office in Geneva Tatiana Valovaya, Director General of the World Health Organisation (WHO) Tedros Adhanom Ghebreyesus and Director General of the World Intellectual Property Organisation (WIPO) Daren Tang.
During the official visit, many bilateral activities took place between leaders of Vietnamese ministries, central departments, and sectors with Swiss partners and UN organisations./.
President Nguyen Xuan Phuc heads to Russia
President Nguyen Xuan Phuc, his spouse and a high-ranking Vietnamese delegation on November 29 afternoon (Vietnam time) left Geneva for an official visit to Russia at the invitation of his Russian counterpart Vladimir Putin.
The visit takes place in the context of the two countries just marking the 70th anniversary of bilateral diplomatic ties in 2020 and two decades of strategic partnership in 2021 with a range of pragmatic activities. They are also actively preparing for the 10th anniversary of comprehensive strategic partnership.
The bilateral political relationship has been continuously consolidated, reflected through the regular exchange of high-level delegations.
Economic and trade cooperation between the two countries has also been developed dynamically in recent years. Two-way trade reached 4.85 billion USD in 2020, up 9 percent year-on-year. It hit 3.6 billion USD in the first nine months of this year, up 5 percent against the same period of 2020.
As of April 2021, Russian had ranked 25th among countries and territories investing in Vietnam with 144 projects worth 944 million USD. Meanwhile, Vietnam had invested in over 20 projects worth nearly 3 billion USD in Russia.
Earlier, President Phuc paid an official visit to Switzerland from November 25-29 at the invitation of Swiss President Guy Parmelin./.
Source: VNA