PM orders establishment of vaccine task force
Prime Minister Pham Minh Chinh has ordered the establishment of a task force in charge of assisting the study, transfer and production of made-in-Vietnam vaccines to boost local vaccine manufacturing.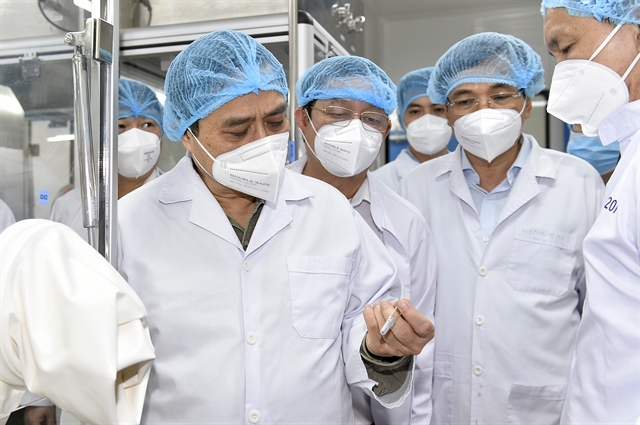 Prime Minister Pham Minh Chinh visits Nanogen Pharmaceutical Biotechnology JSC on Saturday. — Photo Government Portal
He made the order on Saturday while visiting Nanogen Pharmaceutical Biotechnology JSC in HCM City's high-tech park. The company is conducting the clinical trial phases for the domestically-produced Nanocovax vaccine.
The ongoing trial phase of Nanocovax has been tested on more than 13,000 volunteers and will be tested on another 1 million people. This is one of the largest scale vaccine studies in the world, according to Hồ Nhân, Nanogen's general director.
The company is now able to produce 8 to 12 million doses per month. By September, its production capacity could be increased to 30 to 50 million doses per month, Nhân said.
The general director said the company had proposed the World Health Organization consider putting the Nanocovax vaccine in the COVAX programme. Dozens of countries have signed agreements on vaccine technology transfer with Nanogen.
The most important requirement of the Nanocovax vaccine is to be safe and provide good immunity. Each dose costs about VNĐ120,000 and this price will not change, Nhân said, proposing the Ministry of Health follow up and send a task force to assist the company in handling related administrative procedures.
Health minister Nguyễn Thanh Long pledged to cut down on administrative procedures on the vaccine and create favourable conditions for the vaccine's clinical trial phases, which must ensure safety.
PM Chính praised Nanogen for investing in the COVID vaccine in a very strict manner.
"The vaccine research and production must comply with strict processes and regulations, ensure safety, and prove efficiency at a competitive and acceptable cost," he said.
He urged the company to accelerate the vaccine trial phases while pledging the Government's support to reduce administrative procedures that hinder vaccine study, production and transfer as much as possible.
He ordered agencies and local authorities to complete regulations, mechanisms and policies to support businesses in conducting vaccine trials.
"Ensuring vaccine supply to give it for free to the whole population is a long-term strategy for not only this year but also for the coming years," he said.
Chính said he would hold more meetings with vaccine transferring, researching, producing and distributing facilities, scientists and managers to continue to address obstacles and accelerate vaccine production.
Prime Minister Phạm Minh Chính on Sunday paid a visit to Vietnam Dairy Products Joint Stock Company (Vinamilk) in Mỹ Phước Industrial Park in southern Bình Dương Province and the province's general hospital to inspect pandemic prevention and control measures.
The same day he held a working session with local authorities to discuss solutions to realise the dual goals of fighting the pandemic and maintaining business and production.
As Bình Dương is a key economic zone of the southern region, he said the province must take pandemic preventive measures, protect public health and at the same time maintain socio-economic development.
He urged local businesses not to suspend production during the pandemic. "Continue production to fight the pandemic and step up COVID fight to continue production," he said.
Visiting Bình Dương Province general hospital, the Cabinet leader urged doctors and nurses to strengthen connections to conduct COVID consultations with other healthcare facilities.
The hospital must strictly follow COVID-19 protocols in order not to be overwhelmed by the pandemic and avoid cross infection at the hospital, he said.
Source: VNS

Since August 2020, Vietnam has been actively negotiating with various partners to buy vaccines.